$246,000,000,000,000.
That's what we just hit in Global Debt as of Q1 and, as you can easily see by adding up all the numbers in the chart on the right, our Global GDP is just under $80Tn so we're now hitting the 320% mark on the debt to GDP scale for the first time in human history.  And the US "only" has $22.5Tn of that debt so perhaps you are willing to ignore the complete inability of the US to ever pay that bill, but that still leaves $223,500,000,000,000 of debt divided by the remaining $60Tn, which means the rest of the world is getting very close to being 400% of their GDP in debt.
And what is the rest of the World doing about it?  The same thing we are – they are easing their policies and they are spending money on stimulus programs because NO ONE can afford a recession – even a mild one can quickly lead to a total collapse that will ignite this global debt bomb – and no one wants to see that happen so we are Globally "extending and pretending" and waiting for the debt fairy to come and forgive us our economic sins.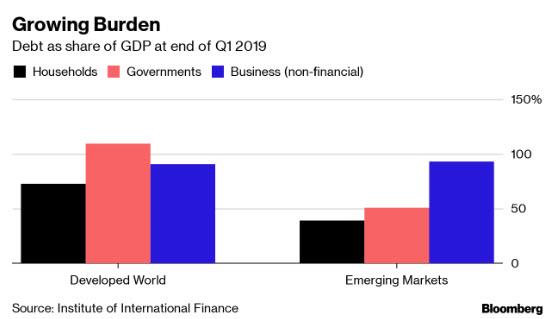 While the Chinese Government is "only" about 100% of their GDP in debt, Chinese Companies make up for it with their own $21Tn pile of debt, 155% of their current GDP.  In fact, Chinese firms accounted for 42% of all Corporate Bonds issued in Emerging Markets this year and the IIF says there are now serious risks of default next year and in 2021.  Sonja Gibbs the IIF's Managing Director for Global Policy Initiatives, said:
"It's almost Pavlovian. Rates go down and borrowing goes up. Once they are built up, debts are hard to pay down without diverting funds from other goals, whether that's productive investment by companies or government spending."  

"This is not a group of borrowers with long experience of managing debt over economic cycles. Once you get into a downturn, a lot of firms have a lot of debts that they will have difficulty in paying."
There's been a shift to shorter-term borrowing in Emerging Markets as the yield curve widens and that leaves…

http://welcome.philstockworld.com/wp-content/uploads/2015/09/PSW-Adooma-logo.png
0
0
Phil
http://welcome.philstockworld.com/wp-content/uploads/2015/09/PSW-Adooma-logo.png
Phil
2019-07-16 12:24:42
2019-07-16 12:24:42
320% Tuesday – Global Debt to GDP Makes New Records