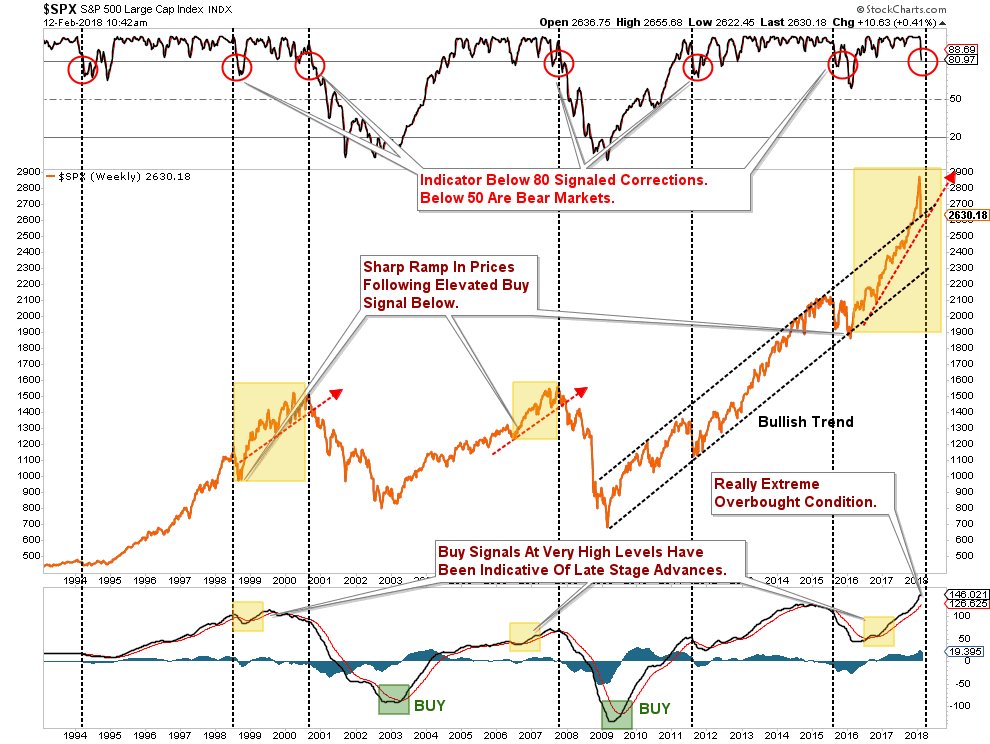 Is overbought the right price now?  
Just a week ago, there were literally thousands of articles saying: "Well, of course we had a sell-off, the markets were so overbought it was bound to happen." Yet here we are, a week later and now they are saying what a great buying opportunity this is.  Seriously?  We're now only 5% below the "obviously overbought" market top.  What changed in the past 7 days?
The market has gone nuts since August, rising from S&P 2,400 to 2,872, which is a 20% run in 5 months.  Markets don't go up 20% a year, let alone in 5 months.  Hell, they hardly even go up 20% in two years and, of course, the logic is TAX CUTS – which seems to justify everything but let's consider that very few companies drop more than 20% to the bottom line (14.6% is the average) and that they are taxed on their profits, not their income so, even if the taxes were as much as the profits (they are about 20% of profits on average) and the taxes were eliminated ENTIRELY, then the companies would only make 14.6% more money.  
That is, of course, not the case and there is nothing in Q1's earnings or guidance to give any indication that the new tax law will have a serious effect on forward earnings – mainly because US Corporations never paid 20% taxes in the first place (about 13.5% on average).  So, if they actually paid the new 20% rate, it would be a tax INCREASE for those companies who routinely park their cash overseas or pay tens of millions of Dollars to accounting firms and Investment Banks to avoid paying Billions in taxes (Apple alone is bringing back over $200Bn they had stashed overseas).  
Trump is taking credit for repatriating funds from overseas but what he's really doing is giving companies a tax incentive (15%) for bringing back money they earned under the Obama Administration (because he was mean and would have taxed them) and for not paying their taxes under Obama's budgets.  In fact, Trump is REWARDING the corporations for hiding money from Democrats and letting future CEOs know that any time a Democrat tries to tax them – they are free to flaunt the law until a Republican is…

http://welcome.philstockworld.com/wp-content/uploads/2015/09/PSW-Adooma-logo.png
0
0
Phil
http://welcome.philstockworld.com/wp-content/uploads/2015/09/PSW-Adooma-logo.png
Phil
2018-02-16 13:30:26
2018-02-16 13:30:26
50 DMA Friday – S&P Struggles to Stay Technically Positive