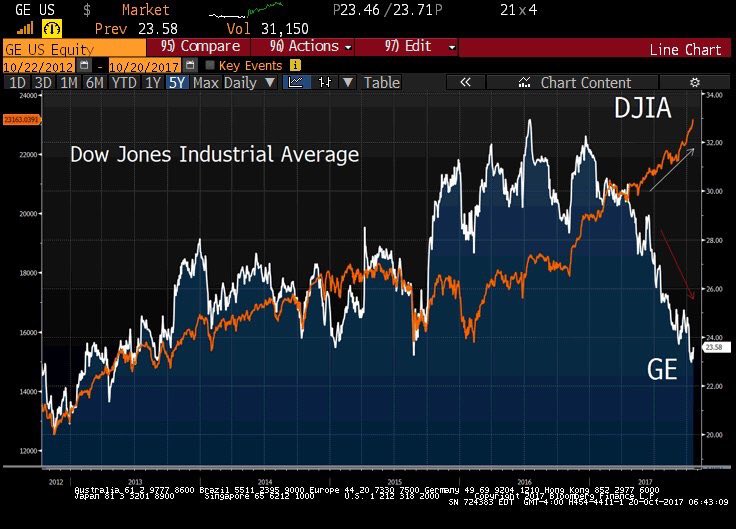 GE (GE) dropped guidance by 33%.
Not sure why I bother mentioning it, it's only a $200Bn leading industrial company so why shouldn't the Dow be up 100 points pre-market?  Makes perfect sense, right?  GE is a Dow component but it's stock is only at $23.50 so a 6.5% drop to $22 is only $1.50 and that's just 14 Dow points vs a 10% drop in IBM being $15 and adding 127 points the other day.  Get it?  No, nobody does, but it's still our leading market indicator so just play the game and don't ask too many questions.
We have been long on GE since June 27th and we have 2,000 shares at $27.40 in our Long-Term Portfolio but we sold the 2019 $25 calls for $3.75 and the $28 puts for $3.10 so our net entry on 2,000 shares was $20.55 but, if we get assigned another 2,000 at $28 (seems likely now), we'll have 4,000 shares at an average of $24.275.  Of course, then we will sell another round of calls – the 2019 $23 calls are now $2.40 so hopefully we'll get more like $3.50 for the 2020s when they come out.  That will keep our basis around $20 while we collect GE's fat 0.94 dividend so, as long as they don't cut it, we're happy to accumulate down here.  
Either GE is going the wrong way or the Dow is and, this morning, we shorted the Dow Futures (/YM) in our Live Member Chat Room at 23,200.  If it turns out the Dow SHOULD be up 28% for the year, then I have to believe GE will find a way to reverse their 20% decline over the same period.  It's not just unusual that GE would diverge from the Dow by over 40% (almost 50% now) – it has NEVER happened, in the entire 121-year history (1896) of the Index (GE was one of the original 12 companies).  Never is a long time, folks – this time sure is different, isn't it?  
As we discussed in Wednesday's Live Trading Webinar – we're not "bearish" on the market, we're simply looking for a nice 5-10% correction that will make us feel better about…

http://welcome.philstockworld.com/wp-content/uploads/2015/09/PSW-Adooma-logo.png
0
0
Phil
http://welcome.philstockworld.com/wp-content/uploads/2015/09/PSW-Adooma-logo.png
Phil
2017-10-20 12:30:23
2017-10-20 12:30:23
Fabulous Friday Finish – Markets Make New Highs