2,707 on /ES (S&P Futures). 
Technically it's bullish but we are sputtering out and I don't see enough good news to sustain us here – even though here is still 170 points (6%) off the January highs and only 150 points (6%) off the Feb and March lows.  So we've hit the lows twice and hit the highs once and now we're struggling at the halfway point?  That doesn't sound very good, does it?  
Apparently, it doesn't sound good to Bond traders, who have are close to inverting the Yield Curve for the first time since 2007, which led to a total melt-down of the Global Economy 18 months later.  The good news is, the markets didn't crash in 2007 – they just flailed along near the highs before completely collapsing.  I tried to warn people then too…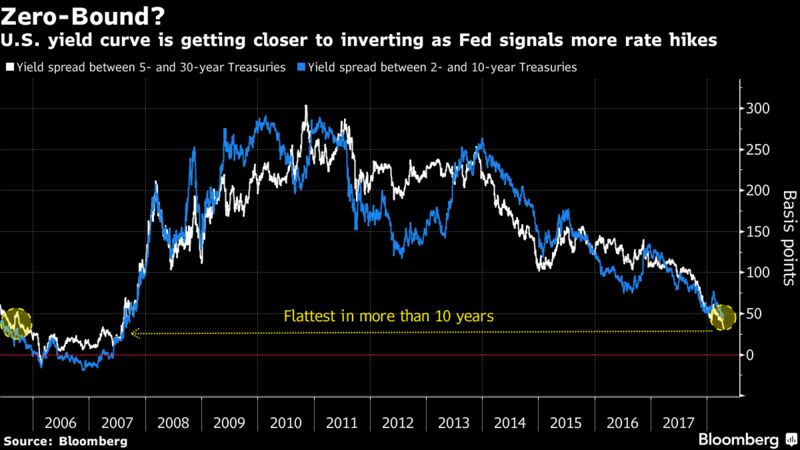 If the barrage of Fedspeak this week is any indication, the persistent flattening is creating a dilemma for officials, who appear intent on gradually tightening policy. St. Louis Fed President James Bullard was the latest to weigh in, saying that central bankers need to debate the yield curve right now, and that it could invert within six months.  "A potential curve inversion should be taken as seriously as always," Citigroup analysts led by Jabaz Mathai wrote in an April 13 report. "The historical relationship between the curve and implied recession probabilities is highly non-linear: implied probabilities grow very fast when the curve moves into inverted territory."
A truly inverted curve "is a powerful signal of recessions" that historically has occurred "when the Fed is in a tightening cycle, and markets lose confidence in the economic outlook," John Williams, the next president of the New York Fed, said Tuesday. 
I'll be on Benzinga Radio this morning at 8:35 and last time (Feb 23rd) I was on we discussed our GreenCoin (GRE) Trade, which was up to 0.004 at the time, a 10-bagger from where we picked it for them in January and now it's at 0.0098 so almost a penny!  Certainly it's doing a lot better than BitCoin, so we're…

http://welcome.philstockworld.com/wp-content/uploads/2015/09/PSW-Adooma-logo.png
0
0
Phil
http://welcome.philstockworld.com/wp-content/uploads/2015/09/PSW-Adooma-logo.png
Phil
2018-04-19 12:06:17
2018-04-19 12:06:17
Failing Thursday – Rally has a Hard Time Justifying Itself