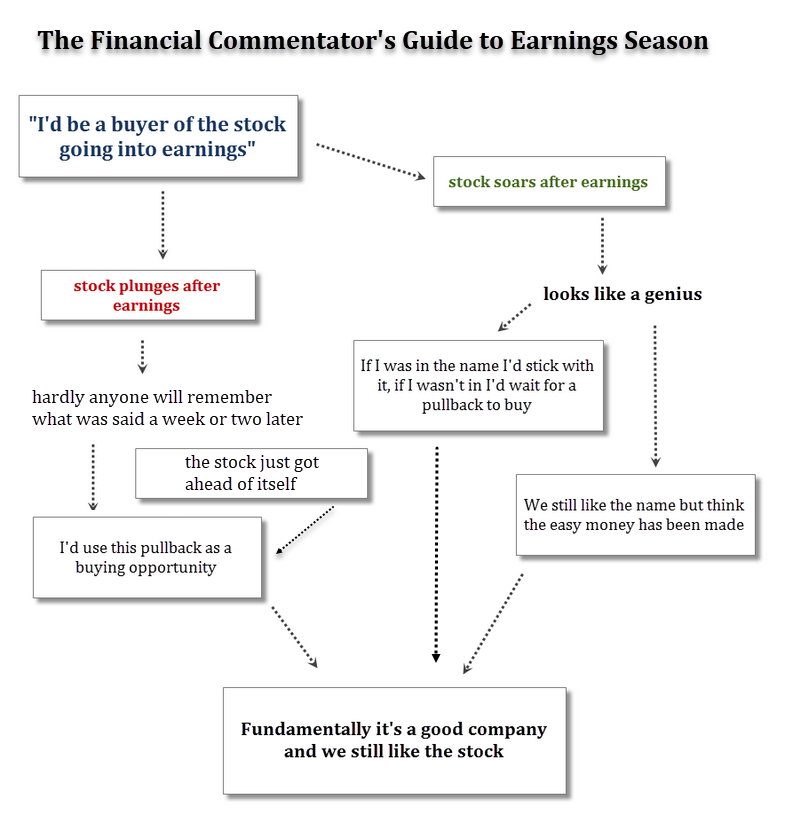 I love earnings season!
So far, it's loving us as well as we have generally been on the right side over each report but the seas are turning ugly as we get into the meat of earnings season, with about 40% of the S&P 500 scheduled to report next week AND there will be a Fed Rate Decision AND there will be Non-Farm Payrolls next Friday which have flipped between 312,000 in Jan to 33,000 in Feb to 196,000 in March – so be ready for anything there as well...
This morning, we're going to see the advanced estimate of Q1 GDP and it's still a low bar of 2.1% expected and we should be able to clear that hurdle, despite the Government Shutdown that caused so much damage to Q4 and Q1.  
While we are waiting, we had big misses from Exxon (XOM) and Archer-Daniels (ADM) but XOM's miss was due to more CapEx spending, which we expected and we're wating on Chevron (CVX) who are in a bidding war with OXY now for APC, so I wouldn't touch them for fear they end up drastically overpaying in order to "win".
Sony (SNE) had very good numbers this morning but then ruined it by lowering guidance as the PS4 has run its course and they have nothing new planned for Christmas.  The company was a real bargain though at $46.50 ($58.5Bn) yesterday and, even this morning, you can sell the 2021 $45 puts for $5.50 to net in for $39.50 – I'm happy to add 10 of those to the Long-Term Portfolio to collect $5,500 while we watch them.
8:30 Update:  GDP was an even bigger beat than we thought, coming in at 3.2% so about 50% higher than the expectations of leading economorons but they'll ask the same idiots what they think next Q will be as well and no one is ever held accountable for these TERRIBLE predictions on CRITICAL data – amazing!
Government spending was up 2.4% and the export of LNG as well as 3Mb/d of oil we now export did a lot to support our balance of trade and accounted for much of the upside  What I don't like about the GDP number is a huge…

http://welcome.philstockworld.com/wp-content/uploads/2015/09/PSW-Adooma-logo.png
0
0
Phil
http://welcome.philstockworld.com/wp-content/uploads/2015/09/PSW-Adooma-logo.png
Phil
2019-04-26 12:24:55
2019-04-26 12:24:55
Faltering Friday – Earnings Season Hits a Rough Patch