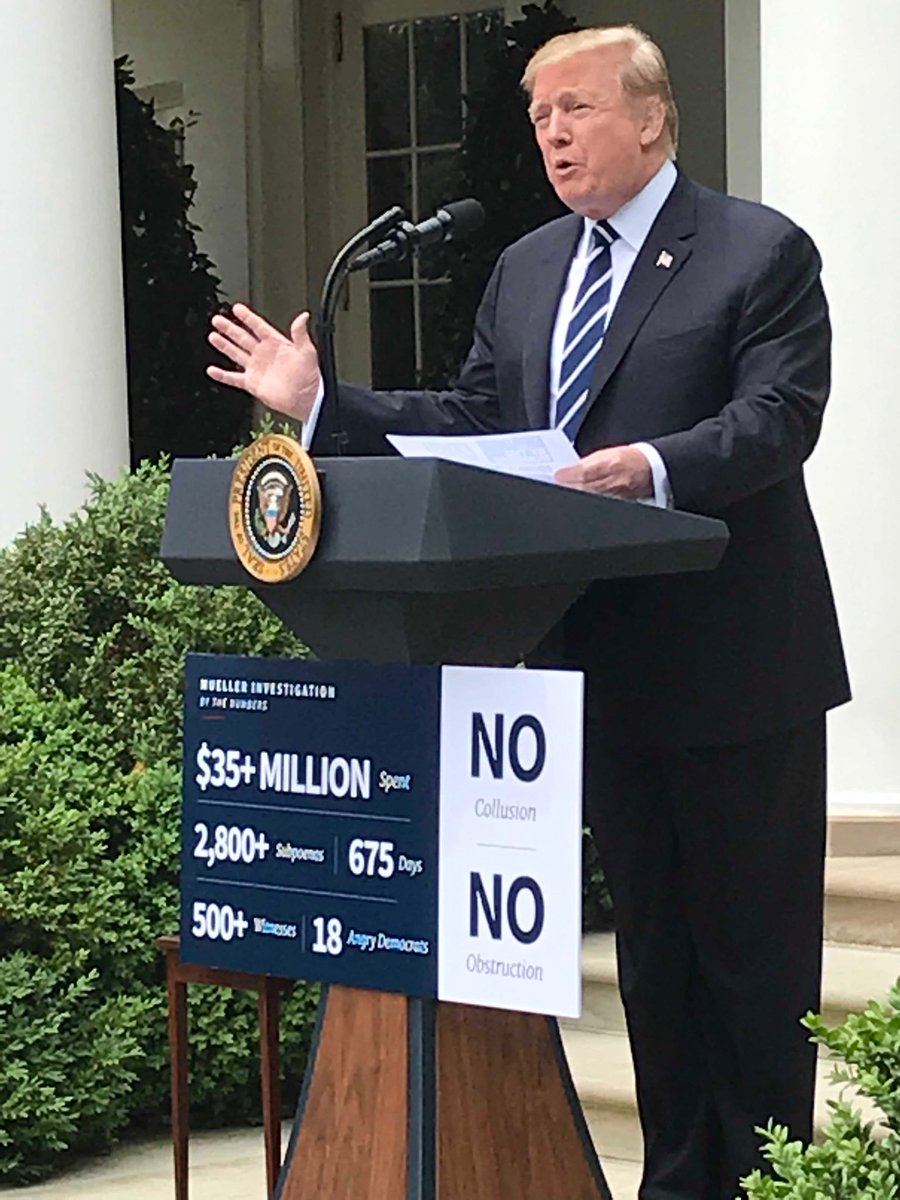 The President is losing it.
Yesterday, he invited the House and Senate Democrats to meet with him to discuss Infrastructure and they had been discussing $2Tn worth of it but, when they showed up, Trump demanded they drop their investigations or he would not spend any money on Infrastructure – even though it's something America desperately needs action on.
Trump is not above holding America hostage to get what he wants – he shut the Goverment down for 35 days last year just to get funding for his wall and, so far, $1.57Bn has bought America 1.7 Miles of fence.  President Donald Trump also commented on the progress of the wall construction on Twitter Wednesday, saying "tremendous work is being done."  
The Democrats did not agree to stop investingating Russian Interference into the US Elections which happens to also include potential charges of collusion and obstruction of justice on behalf of the President and his inner circle.  One could say Trump's actions yesterday were obviously yet another attempt to obstruct justice by threatening people involved in an ongoing investigation but, regarless of that – this man is clearly not acting rationally and, unfortunately, he's our President.  
It's interesting that Trump is complaining about the Mueller Investigation costing $35M (his estimate, not a fact) when Trump has spent $102M of the taxpayers' money playing golf in the past two years – and that is a FACT.  In fact, Mueller has already collected $47M in fines so there's a $12M+ PROFIT from the investigation, not to mention that there have already been 37 people indicted for criminal activity including 26 Russians who interferred with our Demcracy and, so far, 7 people have already pled guilty, including several who were serving directly under the President.   
I know people don't like to talk about politics on investing sites but this is serious stuff, folks!  When this happened yesterday I told our Members to "GET OUT!!!" of the markets as this was clearly going to lead to some serious selling as, if nothing else, we have a completely dysfunctional government which will be doing nothing to address many, many critical things AND we're on a…

http://welcome.philstockworld.com/wp-content/uploads/2015/09/PSW-Adooma-logo.png
0
0
Phil
http://welcome.philstockworld.com/wp-content/uploads/2015/09/PSW-Adooma-logo.png
Phil
2019-05-23 12:31:51
2019-05-23 12:31:51
Faltering Thursday (Again) – Trump Tantrum Spooks Markets