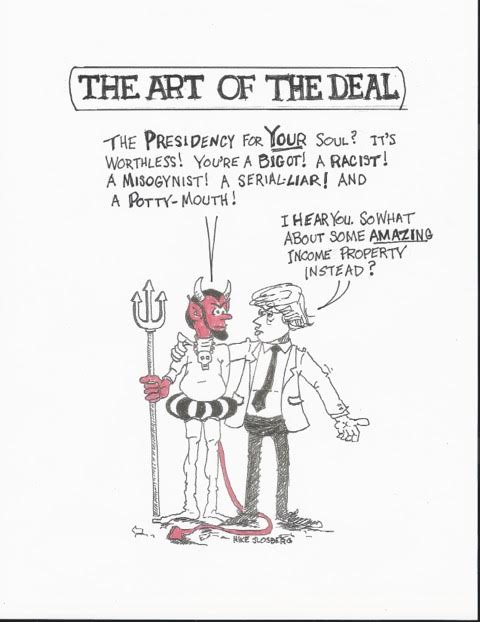 The art of the deal?
The best deal Team Trump can hope for this week is to keep the Trade Talks with China from completely collapsing and sending the markets into a tailspin.  While you hear idiots on TV saying China is coming to negotiate, Trump has set a midnight TONIGHT deadline on more tariffs and the Chinese response has been to reschedule their arrival from Tuesday to today and I want you to contemplate what unrealistic idiots the TV pundits are when they tell you a guy who just got off a flight all the way from China is going to hit the ground running in order to bend over for Trump and concede on all his points in order to get a deal done by 11:59 tonight.
China's Vice Premier Lui He is landing in DC this morning and is scheduled to have dinner with China-hating Robert Lighthizer this evening but don't be surprised if Lui doesn't even spend the night in Washington because, as Tom Hagen sort of said, "Chairman Xi is a man who insists on hearning bad news immediately."  
The die is already cast as Mr. Lui, unlike in previous visits, has not been given the title of "special envoy", which suggests he is no longer empowered to make any trade concessions on behalf of the Chairman.  In other words, Xi has already told Trump to shove his tactics and has left no room for negotiation on the contract they sent over to Washington last week so now it's up to Trump to either bend over and accept China's terms or throw a tantrum and penalize Americans with more tariffs.  
IN PROGRESS
http://welcome.philstockworld.com/wp-content/uploads/2015/09/PSW-Adooma-logo.png
0
0
Phil
http://welcome.philstockworld.com/wp-content/uploads/2015/09/PSW-Adooma-logo.png
Phil
2019-05-09 12:12:15
2019-05-09 12:12:15
Faltering Thursday (as usual) – Investors Hold Out Hope on Trade Talks