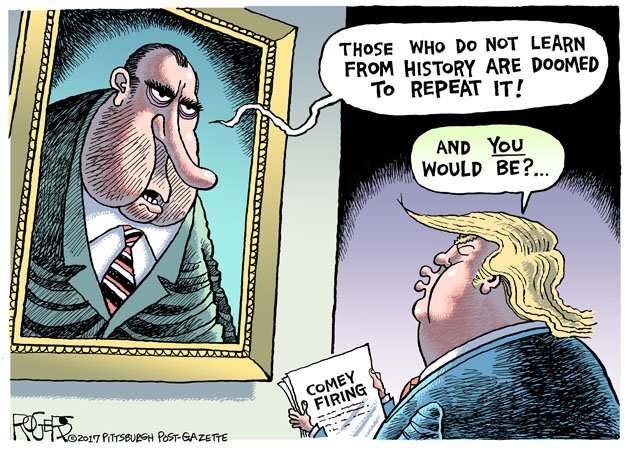 Now Trump has gone full Nixon.  
Trump finally fired his whipping boy, Jeff Sessions and, while we may forget it because he's become a National joke, thanks in large part to the way Trump has demeaned him for two years, he is/was the Attorney General of the United States of America and firing him is a big deal.  And Trump's reasons for firing him are very similar to Nixon's reason for firing AG Archibald Cox in the summer of '73 – to derail an investigation into the President's corrupt dealings. 
Like Nixon, Trump is placing a loyal stooge in Sessions' place (one who is not technically qualified to be the AG, in fact),  Acting AG, Mattthew Whitaker, was hand-picked by Trump and was once a US Attorney in Iowa but then joined the board of World Patent Marketing in 2014 saying:
"As a former US Attorney, I would only align myself with a first class organization. World Patent Marketing goes beyond making statements about doing business 'ethically' and translates them into action."
The Federal Trade Commission last year accused World Patent Marketing Inc., of Miami Beach, Fla., of scamming would-be inventors by charging them thousands of dollars to patent and promote their inventions. The company "provided almost no service in return" and threatened people who complained, the regulator said.
The FTC alleged that the scheme, which it said was promoted through "bogus 'success stories' and testimonials," began in early 2014. The agency found that consumers lost about $26 million; some allegedly ended up in debt or lost their life savings.
World Patent Marketing promotional videos and photos show Mr. Whitaker reviewing invention ideas with the company's founder, and the FTC included in court exhibits an email from Mr. Whitaker acting on behalf of the company and threatening a customer who complained with potential "serious civil and criminal consequences." The August 2015 email was reviewed by The Wall Street Journal.
Usually something like that in an attorney's past would immediately derail any chance they had of becomming the Attorney General of the United States of America but this is the Trump Administration…

http://welcome.philstockworld.com/wp-content/uploads/2015/09/PSW-Adooma-logo.png
0
0
Phil
http://welcome.philstockworld.com/wp-content/uploads/2015/09/PSW-Adooma-logo.png
Phil
2018-11-08 13:26:20
2018-11-08 13:26:20
Fed Fired Thursday – Sessions Gone, Powell Speaks