Economic War!  
That's what Russian Prime Minister, Dmitry Medvedev called US sanctions early this morning and he threatened "other means" of retaliation so Congresspeople better invite some Food Tasters to their barbeques this summer as this whole thing started over Russias use of nerve agents (allegedly) to murder former spys in the UK, which recently killed a bystander who thought a bottle of poison was perfume.   
These sanctions are not coming from the White House – Trump says Russia denies it and that's good enough for him.  The Senate and the House are not convinced though, and they have proposed sweeping sanctions against Russia on August 2nd, which are slated to go into effect on August 22nd and get much worse 90 days later if Rusia does not provide "reliable assurances"  it will no longer use chemical weapons, allow on-site inspections by the UN or other international observer groups, and respond to other U.S. demands.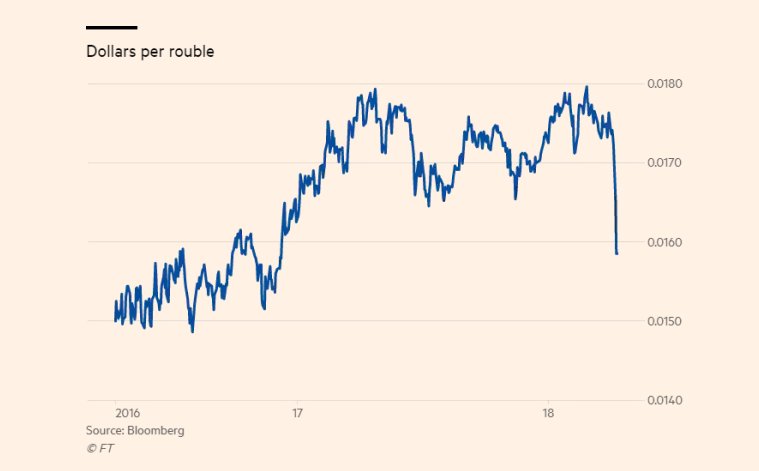 The Ruble crashed yesterday and Medvedev said this morning that Moscow would consider it a "declaration of economic war" and would retaliate "economically, politically, or, if needed, by other means" if the United States imposes bans on Russian banks or their use of a particular currency.  While he did not go into detail, Medvedev's reference to "other means" appeared to have been aimed to raise the prospect that Russia could respond with military force or some other form of warfare, such as a cyberattack or even more nerve gas.
In other Cyrillic news, Turkey's Lira is also crashing as negotiations bread down over the jailing of an American Pastor, Craig Brunson, who has been held there for two years on terrorism charges for his involvement in an attempted coup in July of 2016.  Turkish officials have accused Mr. Brunson of aiding the group accused of orchestrating the coup and another Kurdish separatist movement, charges that the American pastor and U.S. officials have denied.  
Last week, the Trump administration accused Turkey's justice and interior ministers of human rights abuses and imposed economic sanctions on both men. The crisis sent Turkey's lira plunging to record lows. Publicly, Mr. Erdogan was defiant. Privately, his government was trying to secure a face-saving way to end the standoff.  On Monday, Turkey's currency plunged…

http://welcome.philstockworld.com/wp-content/uploads/2015/09/PSW-Adooma-logo.png
0
0
Phil
http://welcome.philstockworld.com/wp-content/uploads/2015/09/PSW-Adooma-logo.png
Phil
2018-08-10 12:23:21
2018-08-10 12:23:21
Flip Flop Friday – Nasdaq Fails at 7,500 on Turkey, Russia Issues