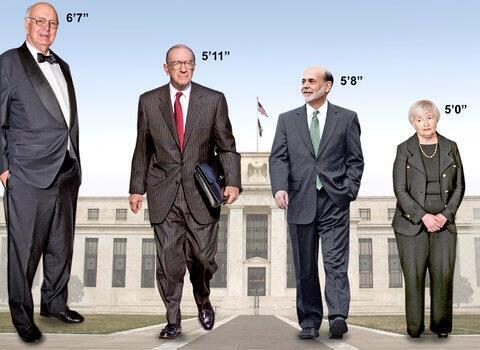 Get ready for a quote-fest. 
All 4 living Fed Chairs will be speaking tonight in New York, ostensibly "for the kids" but really to have an excuse to spin the Hell out of yesterday's Fed Minutes, which had a nice, fake rally into the close but it's already reversed in the Futures as we're down about 0.5%.  For reference, here's each Chairperson organized by the value of the Dollar under their tenure – note the significant shrinkage which leads us to predict Peter Dinklage will die this season in Game of Thrones so he can be tapped to be the next Fed Chairman – you heard it here first!  
We reviewed the Fed Minutes live during yesterday's Trading Webinar and we used the volatility to make a quick $480 for our Members trading Oil (/CL) and the Russell (/TF) Futures (replay available here) and, into the close, at 3:31, my note to our Members in our Live Chat Room was:
Dow stopping at 17,600 again.  Lined up with 2,055, 4,525 and 1,105 so those are the current shorting lines (same rules but bear now).  /NKD at 15,730 so already on the weak side.  Dollar 94.45, as expected.  Oil $37.68 – as expected.  Gold $1,223, silver $15.05 – as usual!  
Although the minutes were "doveish", the FUNDAMENTAL reason they were doveish is what concerned us as the economic situation has deteriorated considerably in the 3 weeks since the Fed meeting.  This was, of course, a reversal from our morning call to go long but we were already out of the longs ahead of the Fed and looking to short as the minutes only confirmed what we expected to happen.  
That's the nice thing about playing the Futures, you can take advantage of the market gyrations without having to get in and out of your long-term positions.  The Russell Futures (/TF) that we focused on yesterday opened below our 1,190 line and topped out at 1,105 for a $1,500 per contract gain, even better than Silver (/SI), which jumped $1,000 per contract or Gold, which is up $350 per contract at the moment.  …

http://welcome.philstockworld.com/wp-content/uploads/2015/09/PSW-Adooma-logo.png
0
0
Phil
http://welcome.philstockworld.com/wp-content/uploads/2015/09/PSW-Adooma-logo.png
Phil
2016-04-07 12:31:37
2016-04-07 12:31:37
Flip Flopin' Thursday – Yellen, Bernanke, Greenspan and Volker Oh My!