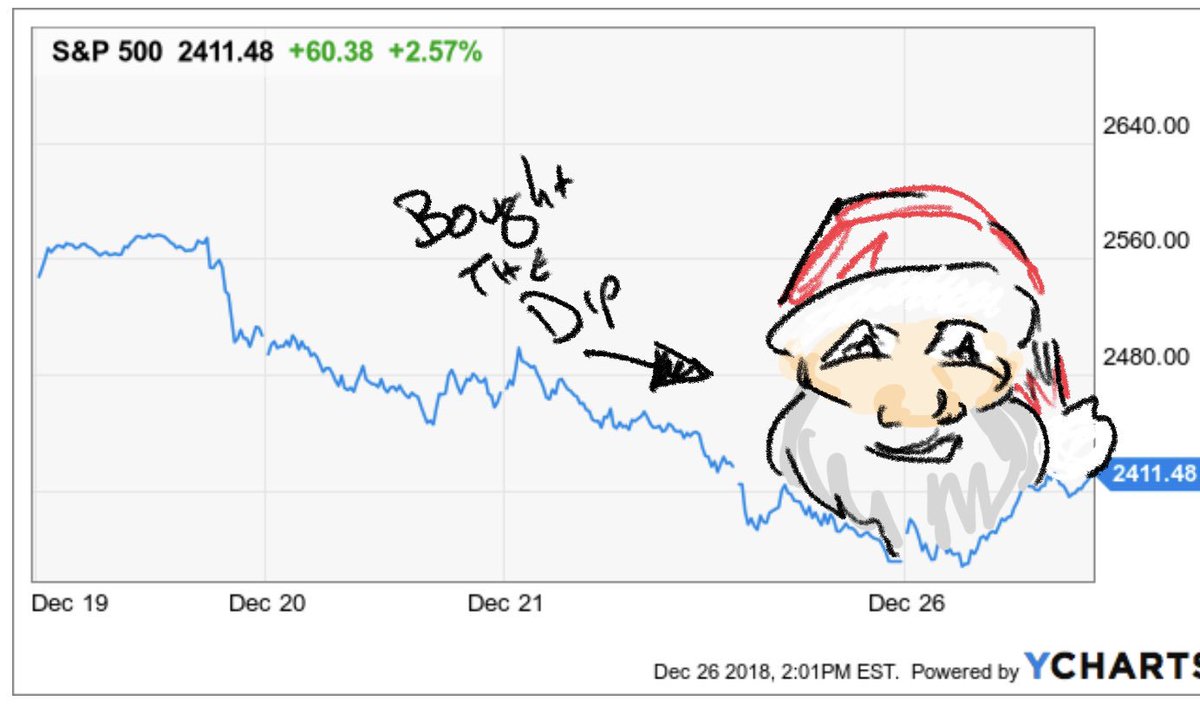 Wheeeee – what fun!  
That was the first time EVER that the Dow gained 1,000 points in a day so – you were there.  So far, in the Futures, we're only giving back 300 but that's because the BuyBots are sleeping and it sure didn't look like they were done into the close so we'll see what happens once the volume comes back with just three shopping days remaining in 2018 – and good riddance to it after that crappy quarter.
Not even another 10% gain can save this from being a TERRIBLE quarter for stocks but it can save the indexes from breaking down so we'll take what we can get and, in REALLY GOOD news, assuming The Donald can keep away from twitter for a few days, this is the 13th most oversold level the markets have ever been at with just 1.2% of the stocks over the 50-day moving averages and there has not been a year this century in which we haven't had a very nice gain following such an event.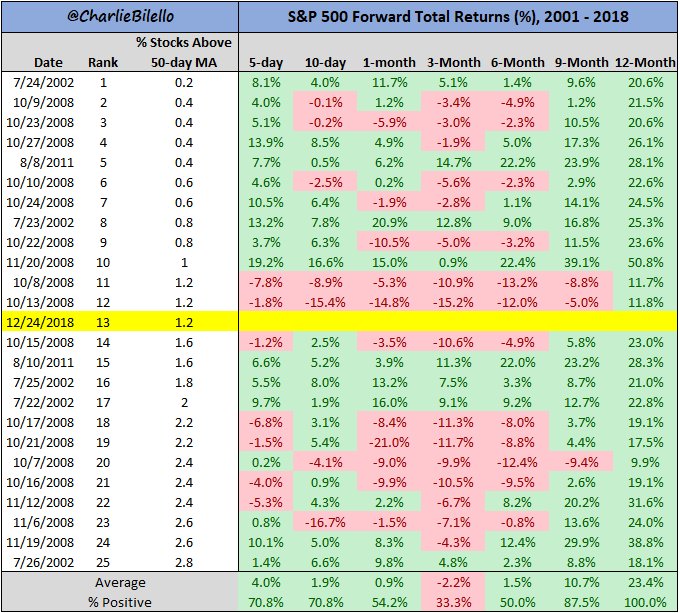 That bodes well for 2019 and we were scrambling to adjust our portfolios yesterday in our Live Member Chat Room as we expected the bounce (see yesterday's Morning Report) but we hadn't wanted to commit on Monday as it was too scary with the markets closed on Tuesday.  Our results were not scary though as our Options Opportunity Portfolio, which opened the day down 6% finished the day up 32% for a 38% swing on the day and we're now positioned fairly bullish going forward and, as noted in our Dec 11th review, that $132,000 portfolio is on track to make another $126,256 (95%) over the next two years – on just the trades that are in there already!  
When the market sold off, rather than panicking, we looked at our perfectly good positions that we down 38% from our last review (12/11) and decided to improve them – mostly by buying back the short callers and rolling our long calls lower where it was appropriate.  We also doubled down on Frontier Communications at $2 as that seemed a bit silly and, by the end of…

http://welcome.philstockworld.com/wp-content/uploads/2015/09/PSW-Adooma-logo.png
0
0
Phil
http://welcome.philstockworld.com/wp-content/uploads/2015/09/PSW-Adooma-logo.png
Phil
2018-12-27 13:48:10
2018-12-27 13:48:10
Follow-Through Thursday – After a Record Day, A Pause or More of the Same?