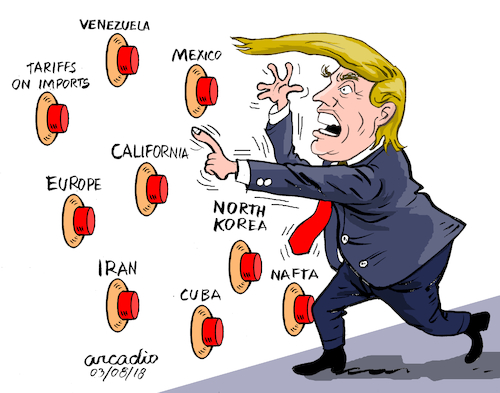 $200Bn more in tariffs.
Now are you paying attention?  The market sure did yesterday when Trump said he wants to move ahead with his plan to impose $200Bn of additional tariffs as soon as next week, just two days after tweeting that he and President Xi would work out their trade deal, which drove the market to new highs.  Companies and members of the public have until Sept 6th to submit comments on the proposed duties, which cover everything from selfie sticks to semiconductors. The President plans to impose the tariffs once that deadline passes.
Trump cut off negotiations with China because of what he perceives as Beijing's lack of cooperation in nuclear talks with North Korea, one of the people said. The president wants to squeeze China, believing the U.S. has leverage over Beijing, that person said.  Trump also threatened to pull out of the World Trade Organization as they have not been behind his illegal sanctions so far – that alone threatens to unwind the entire Global Economy but, thank Goodness, noboday takes the President seriously when he says insane things like that.
Trump also said (yes, he just keeps going) that the EU offer to scrap auto tariffs "is not good enough" meaning – well let's not pretend to know what he means but if NO TARIFFS are not good enough then I guess he wants the EU to offer incentives for their people to buy American cars?  I was going to say that's Batshit Crazy but then I thought that was going to far but then I looked up the definition of Batshit Crazy and yes, Trump is BATSHIT CRAZY!  
You know, after 8 years in office and millions of photos, there are NO pictures of Obama snarling at anybody or about anything.  Not even Bush II has any snarly pictures but he may tie Trump for dumb-looking pictures.  No snarly pictures of Clinton either and I couldn't find many Bush I pictures as he's pre-internet but I'm sure he snarled at least once so let's say you have to go back at least 30 years to find a President who even looks like…

http://welcome.philstockworld.com/wp-content/uploads/2015/09/PSW-Adooma-logo.png
0
0
Phil
http://welcome.philstockworld.com/wp-content/uploads/2015/09/PSW-Adooma-logo.png
Phil
2018-08-31 12:39:32
2018-08-31 12:39:32
Friday Failure – China Trade War Heats Up While Canada Cools Off