Not much to say about this mess other than – add some more hedges!
Ex-ish President Trump declared the elctions invalid last night in a rambling lie-fest.  I don't think it would suprise anyone if he sends in the troops this weekend to "oversee" the recounts in the states he lost in.  As noted by Stephen Colbert – this isn't very funny anymore – our Democracy is at stake.  You know, the thing our Founding Fathers fought and died to protect and, when faced with a similar challenge our "Not-So-Great" Generation changes the channel or, at most, fires of an angry tweet or likes an anti-whatever post on Facebook.   Way to revolt, my friends!  
There is still no official President and there won't be one until Trump has exhausted the courts, apparently.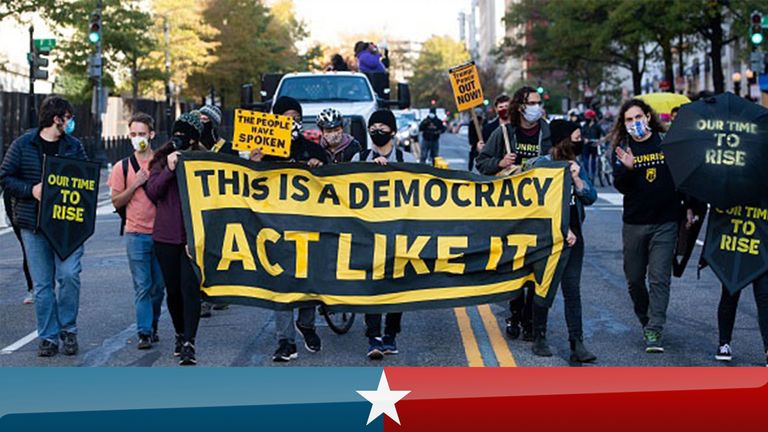 Officially it's Biden 264, Trump 214 but Biden is up 12,000 in Nevada with 150,000 mostly blue votes left to be counted.  Biden is 1,0000 ahead in Georgia with 50,000 Atlanta votes left to count – where Biden has been leading 4:1.  Biden is behind by just 20,000 in PA – from 600,000 last night with about 200,000 mostly Dem votes left to count and Trump is up 80,000 in North Carolina with 250,000 votes to count – not likely for Biden and, for some reason, Alaska hasn't been called yet – that's Trumps.
There's no way Trump wins at this point other than reversing the results and now we'll see how far the limits of Presidential power can be pushed to overturn our Democracy.  Trump believes (for good reason) that he owns the Supreme Court.  So much so that his legal team doesn't believe they need evidence to throw out voting results as they are making half-assed challenges all over the country and taking quick losses solely so they can appeal the matter to Trump's Supreme Court, where they expect to get favorable rulings that will invalidate our election.  
The market doesn't seem that upset about it, with the Dow down just 250 points…

http://welcome.philstockworld.com/wp-content/uploads/2015/09/PSW-Adooma-logo.png
0
0
Phil
http://welcome.philstockworld.com/wp-content/uploads/2015/09/PSW-Adooma-logo.png
Phil
2020-11-06 13:32:25
2020-11-06 13:32:25
Friday Failure – No Stimulus, No President, Have a Nice Weekend!