This is not pretty:
While this morning's GDP Report may show that we grew at a 4.2% pace in Q2, the Federal Reserve thinks that's so unusual that our annual GDP gain will still only be 3.1% for 2018 and then they see that DROPPING to 2.5% in 2019, 2% in 2020 and 1.8% in 2021, giving Trump and his policies the worst 4 years of GDP growth since Bush's 2nd term or Hoover's only term.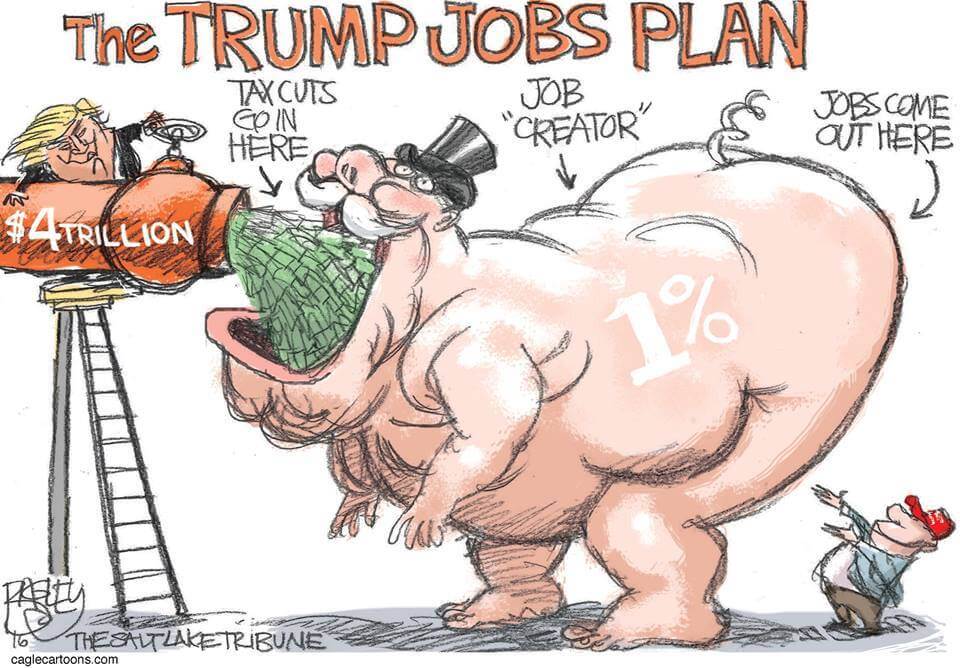 What's even worse is that Trump's budget projections expect 4% GDP Growth and if we fall 2% shy that's $400Bn less growth than anticipated and Trillions of additional Dollars will compile into our debt if the Government fails to hit their collection targets – which we all knew was based on a ridiculous trickle-down fantasy in the first place – we just didn't expect it to all fall apart so soon.  
The Fed is calling this the bottom in Unemployment as well and does not project more than the usual amount of jobs to be created, despite the massive stimulus that's been given to the Top 1% and their Corporations.  Again, any idiot could have predicted that but 63M people believed the BS enough to vote for Donald Trump or, more accurately, 62,400,000 believed the BS and the other 600,000 were happly to screw them over in order to get their tax cuts. 
The Fed, for its part, still sees the need to "normalize" interest rates and project a 3.25% rate by the end of next year, which would be 4 more 0.25% hikes over the next 8 meetings but that's going to be miles behind the bond market, which is already hitting 3.05% on the 10-year notes.  Even more alarming, the 10-year note began this month at 2.85% so up 0.2% in a month is a 7% increase in less than 30 days.  While the Fed may be content to keep lending at unrealistically low rates, real-world lenders are not and borrowing costs are increasing – no matter where the Fed sets their "benchmark."  
Rising interest rates traditionally have a negative impact on Business Profits, Home Sales and Consumer Spending so, as long as the stocks you are holding…

http://welcome.philstockworld.com/wp-content/uploads/2015/09/PSW-Adooma-logo.png
0
0
Phil
http://welcome.philstockworld.com/wp-content/uploads/2015/09/PSW-Adooma-logo.png
Phil
2018-09-27 11:38:58
2018-09-27 11:38:58
GDPhursday – 4.2% Now, Below 3% From Now On