Up we go again!
In the end, the S&P 500 only made a weak retracement of the rally, back to the 3,800 line on the button, per our 5% Rule as we noted on Friday morning.  Since then we bounced back but it's a fall from 3,900 so those bounces then should be 20 points so 3,820 (weak) and 3,840 (strong) and we don't pay much attention to the Futures but a fail to hold a strong bounce today means we are still more likely to be consolidating for a move down to 3,700 this week.  
Bonds finally stopped falling (which indicates rates are rising) but they too are likely just bouncing after falling 5% from 140 to 133 so we're not very impressed with that move either until we see a strong bounce – which would be 2 points back to 135 – where you can see we paused on the way down.
Pausing here is certainly nothing to get excited about as the US just held a TERRIBLE 7-year note auction that got very little interest (the lowest demand in history) and the 10-year note yield is still about 1.5% – back to where it was pre-Covid and miles above the Feds 0.25% target rate – a gap that shows how far away from reality the Fed really is at the moment.  
Almost everything that mattered was red on Thursday. Treasuries sank, driving the yield on 10-year notes up as many as 23 basis points to 1.61%. Stock losses were most pronounced in Nasdaq-100 and small-cap shares that, with help from frenzied speculators and economic optimists alike, had led equities higher. Corporate bonds continued to rack up the biggest losses since the pandemic began as companies scramble to sell debt before yields go up even more. The dollar surged in a classic haven trade.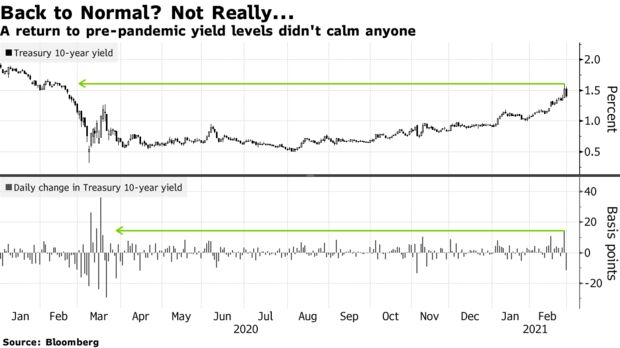 So, what's gotten better over the weekend?  Nothing really.  "I was surprised to see the almost complacency from Fed officials, with naive comments about U.S. bond yields reflecting a stronger outlook," said Thomas Costerg of Pictet Wealth Management in Geneva.  What sounds like reassurance to US investors sounds like idiocy to Global Traders – that's why no one is buying our bonds anymore – no faith in our Fed is a dangerous thing because faith is all we have holding this monetary system together at 200% debt levels.
IN PROGRESS
http://welcome.philstockworld.com/wp-content/uploads/2015/09/PSW-Adooma-logo.png
0
0
Phil
http://welcome.philstockworld.com/wp-content/uploads/2015/09/PSW-Adooma-logo.png
Phil
2021-03-01 13:17:30
2021-03-01 13:17:30
Just Another Manic Monday