We're waiting on the Fed. 
The problem is the Fed is having their policy meeting a week from Wednesday and the Fed is entering their quiet period, where they refreain from talking about the markets so we will lose the Fed's talking support for the next week as well – what's going to keep us over 3,000 without endless promises of more Fed easing?  Well, we don't really have to worry about that as we're not over 3,000 anymore anyway – so the pressure is somewhat off though it will now be very easy for us to slip into a bit of a downtrend – in the absence of "good" news.  
We do, of course, have plenty of earnings reports this week, including WHR tonight, CMG tomorrow, BA, T, FB and TSLA on Wednesday, AMZN and GOOGL on Thursday and TWTR and MCD on Thursday – that and about 300 other reports to chew over for the week and not too much data to distract us until Durable Goods on Thursday and GDP on Friday: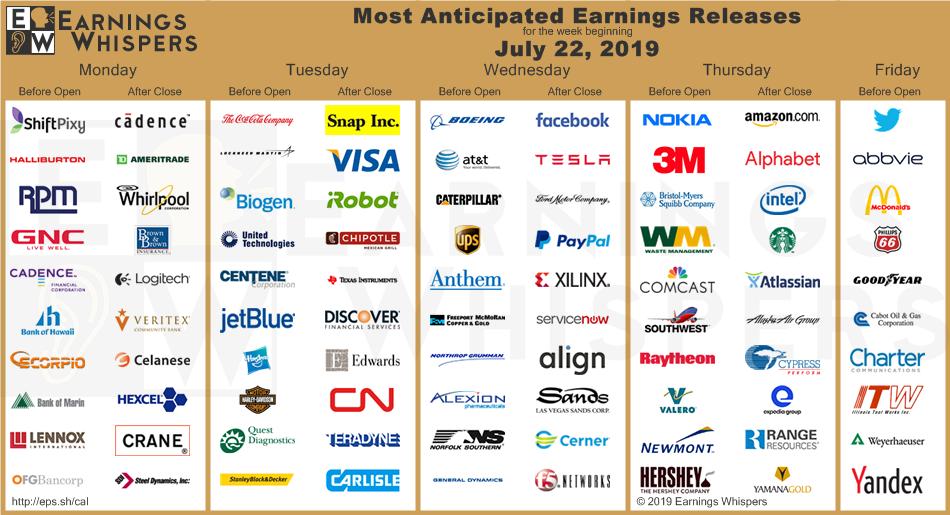 All in all, this is a bad lack of news for the President, as we will be finally hearing delayed testimony from Robert Mueller on Wednesday, in what will be telivised testimony to two House Committees, who look for clarity regarding statements made by the Special Investigator in his April Report (yes, it was 4 months ago!).  Democratic House Judiciary Committee Chairman Jerry Nadler on Sunday argued that there was "very substantial evidence" the President was guilty of "high crimes and misdemeanors" — the Constitutional standard for impeachment.  
A CNN poll last month found that 76% of Democrats back the idea of impeaching Trump. But 54% of Americans overall oppose the idea.  Trump, who has claimed he will not watch the testimony, tweeted simply on Sunday: "Presidential Harassment!"  "If we had confidence that the President clearly did not commit a crime, we would have said that," Mueller said. That statement may provide the starting point for many of the questions from Democrats.
http://welcome.philstockworld.com/wp-content/uploads/2015/09/PSW-Adooma-logo.png
0
0
Phil
http://welcome.philstockworld.com/wp-content/uploads/2015/09/PSW-Adooma-logo.png
Phil
2019-07-22 12:34:48
2019-07-22 12:34:48
Just Another Manic Monday