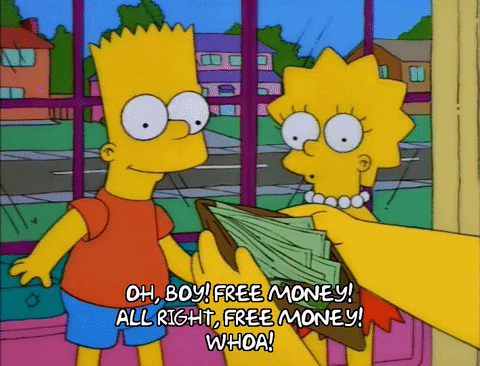 I want free money NOW!!!  
That's the word from Wall Street, which is in no mood to give Congress a couple of days to decide how to dole out $1.5Tn(ish) in stimulus spending for the first round of the bailout that has, so far, been bothering Americans for a month.  Imagine how things will be in month 3!  We left off Friday Morning with 246,275 global infections, 9,115 deaths and 84,506 recoverd and Italy was the rising star of the virus World with 35,713 infections and 2,978 deaths and the US had 14,250 infections. 
This morning there are 349,211 Global Infections (42% more), 15,308 Deaths (68% more) and 100,165 Recoveries (18.5% more).  So STOP listening to the news and their "expert" opinion makers and for God's sake stop listening to the Government and think for yourself.  These are statistics – hard facts.  If there is a 3 times faster rate of people being infected than are recovering – that's not good, if there is a 4x faster rate of people dying than recovering – that's not good either so, in general, your take on this weekend is "Not Good" and don't let people tell you otherwise.  
Now, there are mitigating factors like more testing leads to more cases and sure, that's true but more testing doesn't lead to more deaths (hopefully) so that's a hard fact we need to pay attention to and lack of recoveries is a big concern and makes it seem kind of like BS when people try to assure you that most people get mild cases.  If that's true, why have 233,738 people who have been infected stil not recovered?  
No one is being honest with us – that's the main problem.  One true thing we can isolate is 712 people on the Diamond Princess Cruise Ship got infected one month ago and, as of today, 567 recovered and 8 have died.  It was a Princess Cruise Ship, so we can assume they were generally upscale passengers and generally older and it was early on – so they got the best possible care before hospitals began crowding up yet, one month later, 137 passengers (19%) have still not recovered (or died).  
…

http://welcome.philstockworld.com/wp-content/uploads/2015/09/PSW-Adooma-logo.png
0
0
Phil
http://welcome.philstockworld.com/wp-content/uploads/2015/09/PSW-Adooma-logo.png
Phil
2020-03-23 12:15:52
2020-03-23 12:15:52
Just Another Manic Monday as Congress Fails to Deliver Good News