All is well, again.
How many times are we going to fall for this BS?  Turns out Trump had already gotten concessions out of Mexico months ago and his "demands" for border security has already been agreed to so there were never going to be any tariffs on Mexico – it was just Trump stomping his feet and beating his chest in order to look like he actually accopmplished something – as well as to distract us from all the crimes he's about to be indicted for.
The Futures are up another 100+ points this morning and we're just 500 points away from a full recover – back to our record highs after a 1,000-point drop in May – and it's only June 10th.
The Russell (/RTY) is lagging in the recovery and can be played long over the 1,520 line but with tight stops below because NOTHING actually happened since the Russell was at 1,620 ($5,000 per contract higher than 1,520) – except the fact that the President has once again shows how completely unstable he is and THAT remains a bit of a concern to me – and it should to anyone who has money at risk in the markets.
We completely ignored last week's TERRIBLE Non-Farm Payroll Report and the downward adjustments to the last two reports and the ecitement over possible Fed Rate Cuts was over statements the Fed made that assumed we were placing tariffs against Mexico that would crash the economy – that's now off the table because the Fed, like us, made the mistake of believing something Trump said he would do (10,796 lies in 869 days so far).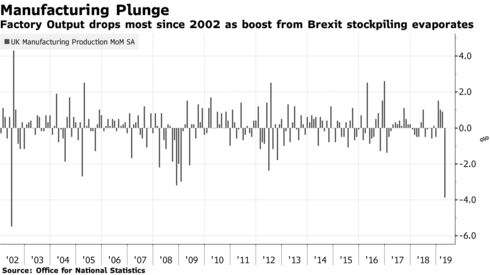 UK Manufacturing Output fell 3.9% in April and that is a REAL thing that actually happened.  GDP fell 0.4% in April and puts the entire quarter on track for a 0.3% recessionary drop – adjusted from +0.5% expected just two months ago.  These numbers may be skewed by the original Brexit deadline of March 29th, which may have pushed a lot of production and orders into Q1 – ahead of that deadline. 
Unfortuantaly, we won't know the truth until…

http://welcome.philstockworld.com/wp-content/uploads/2015/09/PSW-Adooma-logo.png
0
0
Phil
http://welcome.philstockworld.com/wp-content/uploads/2015/09/PSW-Adooma-logo.png
Phil
2019-06-10 13:02:10
2019-06-10 13:02:10
Made Up Monday – Trump's Fake Mexican Melt-Down Ends