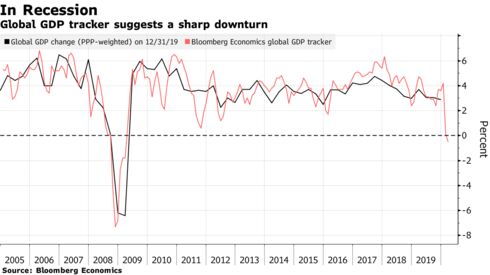 "It's a make-or-break moment."
That is according to former IMF chief economist Maury Obstfeld who went on to say: "This may be the greatest global crisis we've faced in the postwar period."  Having all taken steps to support their individual economies, failure by the leading Group of 20 countries to now act together could consign the world to "reservoirs of disease" and trigger outward migration from poor countries on "a biblical scale," said Obstfeld, now a professor at the University of California, Berkeley.
Social distancing and hand-washing are not options in countries where having your own room and running water are luxuries few can afford.  The IMF says emerging markets will need Trillions of Dollars worth of aid from developed nations or they will simply become long-standing viral hot-spots that could re-infect the rest of the World at any moment.  We are, indeed, all in this together!
We'll hear more about this at the IMF's annual meeting, which starts tomorrow.  At the same time, emerging markets are facing a massive liquidity crisis as they don't have Central Banks that can simply crank up the printing presses when they need to throw money around.   Capital has simply flown out of Emerging Markets and is continuing to do so and those are the people who supply a lot of the parts and materials that make American factories run.
While I could write a whole article on that crisis and it's implications – we don't have time because we need to talk about the Oil Crisis, which also affects Emerging Markets.  This weekend, OPEC finally agreed to cut production by 10M barrels/day (9.7 actually) but the US had a 30M/b net build last week and generally we use about 130Mb/week so that's a 19% overall build and, as I said to our Members over the weekend:
Meanwhile, we had a net 30M build this week and that's out of 130Mb production so 19% too much oil being produced gives us an idea of the extent of the pullback in the economy.  I know I last filled up about a month ago. 
…

http://welcome.philstockworld.com/wp-content/uploads/2015/09/PSW-Adooma-logo.png
0
0
Phil
http://welcome.philstockworld.com/wp-content/uploads/2015/09/PSW-Adooma-logo.png
Phil
2020-04-13 12:34:15
2020-04-13 12:34:15
Make or Break Monday – Oil Cuts, Virus Counts and Emerging Markets