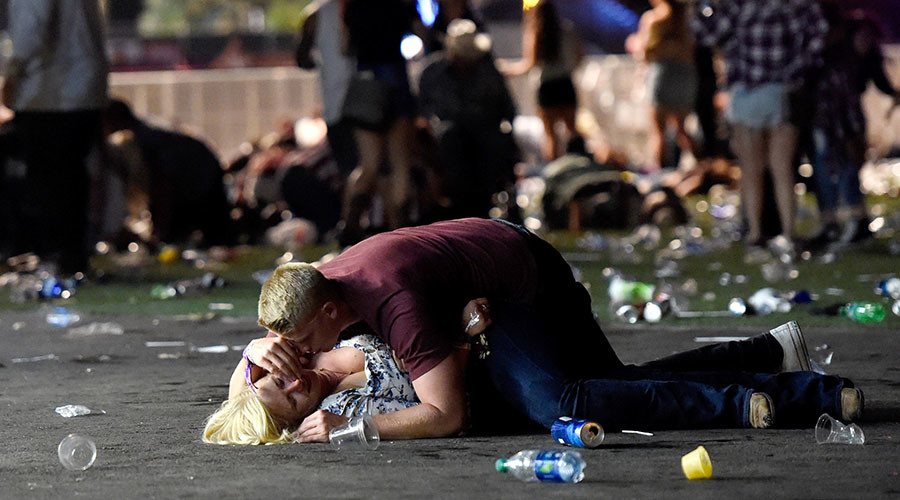 Another day, another mass shooting.
At least 50 people are dead and 200 are injured as a gunman (American male, 64) opened fire on the crowd from the 32nd floor of the Mandalay Bay hotel in Las Vegas, which overlooked the concert.  According to the NRA, if only the crowd were all armed as well, they could have opened fire at the hotel and then the hotel residents, packing their legally purchased firearms, could have returned fire on the crowd and later we could sort through all the bodies and figure out who started it.  Wouldn't that be better than just banning the guns?
As it is, this is simply horrific and yet another concert tragedy to bookend the Summer of 2017.   The bombing in Manchester in May was terrorism, this was just a pissed off white guy, opening fire on a country music crowd, of all things.  There's no amount of concert security that can protect you from automatic weapons fire from a hotel across the street. 
All of Las Vegas went into lockdown following the incident, with flights grounded and guests ordered to remain in their rooms while police ran down leads on possible accomplices or other planned attacks.  Thankfully, nothting else has happened – but this one was more than enough!  
Typically, the markets seem unphased by tragedy – and there was plenty of it over the weekend beginning with the massive unfairness of the Trump Tax Plan, which turns out to be exactly what we thought it would be – yet another transfer of wealth from the poor to the rich.  As I have pointed out before, the rich have not gotten so rich that any attempt to increase their own wealth comes at a horrific cost to the "losers" in the equations – which is pretty much anyone not already in the Top 1%.  
The new tax framework, which the White House rolled out Wednesday, is heavy on cuts for corporations, which tend to reward shareholders, as well as reductions for business owners. As a result, its benefits are skewed toward the wealthy – just over half of the cuts, which total $2.4Tn over a decade, would go to the Top 1% of taxpayers, who would see their after-tax incomes…

http://welcome.philstockworld.com/wp-content/uploads/2015/09/PSW-Adooma-logo.png
0
0
Phil
http://welcome.philstockworld.com/wp-content/uploads/2015/09/PSW-Adooma-logo.png
Phil
2017-10-02 12:08:18
2017-10-02 12:08:18
Mandalay Monday Mayhem – Biggest Mass Shooting in History Starts the Week Off with a Bang!