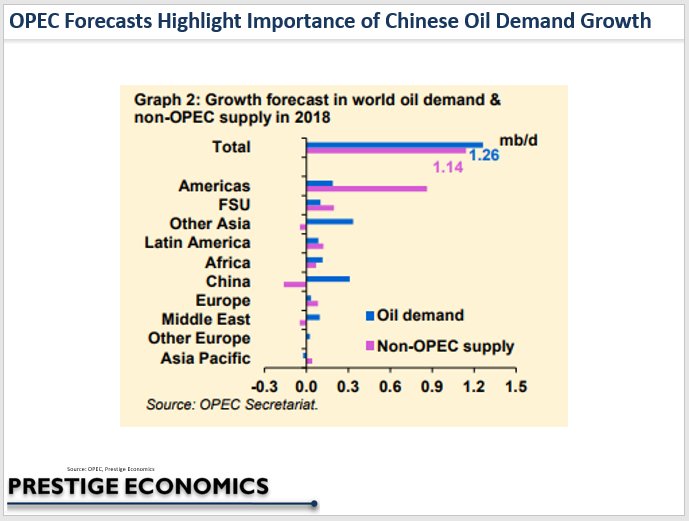 As we predicted on Friday, the Saudis have unilaterally cut production.
It was less than we recommended, however – 600,000 barrels vs. 1Mb needed to make enough impact to get Brent Crude back to $50 so we'll be back to shorting oil once the bulls get done reacting to the headline.  At the moment (8am), US Oil (/CL) is trading at $46.06 and hopefully we can short it at $46.50 but we'll take a short under $46 with tight stops above as they may not get there on this half-assed effort.
The Saudis have to act in loco parentis at these meetings but it was hoped by oil bulls that holding the OPEC meeting in St. Petersburgh meant Russia would be joining in with more cuts.  Not only didn't that happen but both Nigeria and Lybia have room to INCREASE their production under today's agreement, which offsets most of the Saudis' new cuts.  The success of this deal rests on the rest of OPEC complying with November's production cut – something they are notoriously bad at.  
Long-Term, the OPEC nations face a disaster of biblical proportions as their oil-dependent economies are running headlong into the end of the oil era.  According to a new book. Burn Out: The Endgame for Fossil Fuels takes the view that oil prices will not just be "lower for longer", as BP chief Bob Dudley predicted, but lower forever.  The evidence for author Dieter Helm's case rests on plentiful supply unlocked largely by the US shale revolution, "unstoppable" global action on climate change, and technological advances.  
"My view is that oil prices will probably carry on falling forever, and $50 is a high price for oil, not low," the University of Oxford professor told an audience in London.    
Helm described his book as "very bleak" about the fate of the Middle East's oil producers, who he warns face challenges "at best uncomfortable and at worst close to existential".  Of Opec, he writes: "The popular narrative … assumes that these countries still have the power to move the price, and hence assumes that, eventually, Opec will restore order and return to the good days of ever-higher prices. This narrative is profoundly wrong."…

http://welcome.philstockworld.com/wp-content/uploads/2015/09/PSW-Adooma-logo.png
0
0
Phil
http://welcome.philstockworld.com/wp-content/uploads/2015/09/PSW-Adooma-logo.png
Phil
2017-07-24 12:20:22
2017-07-24 12:20:22
Manic Monday – Saudis Cut 600,000 More Barrels and it's Still Not Enough!