It's the last week of summer. 
That's something my kids are keenly aware of as they head back to high shool.  Turns out Jackie's (14) summer bucket list included a weekend at Matha's Vineyard and she was devastated to find out that telling me this on Thursday last week wasn't adequate notice to plan a trip for next weekend, even if I were so inclined.  
The Fed schedules their Jackson Hole conference for the last week of summer because they know no one on Wall Street does anything until after Labor Day (9/5) so the purpose of the whole circus is to give us something to chew on over the holiday, when the G20 Meeting will be held in Hangzhou, China.  As you can see from JackDamn's SPY chart, the market has been running hot all summer but we're having a lot of trouble at that top channel and there's very little support below 2,160 on the S&P all the way back to 2,100.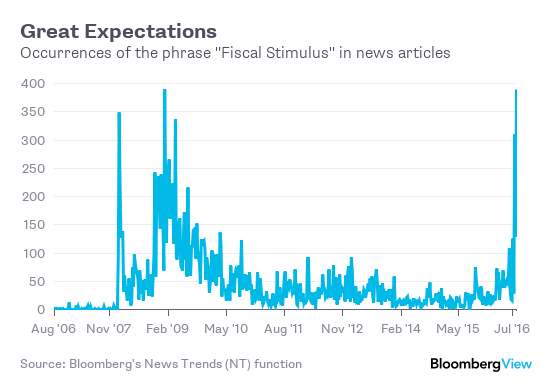 Hope, though, springs eternal into the fall as bullish investors are still salivating over the possibility (they think certainty) of another major round of fiscal stimulus and God help us all if the G20 disappoints on that front next weekend because the Fed certainly gave us no clear direction out of their meeting.
What Yellen said on Friday (key quote) was:
"In light of the continued solid performance of the labor market and our outlook for economic activity and inflation, I believe the case for an increase in the federal-funds rate has strengthened in recent months."
"I believe" is not the same as "we believe" and a divided Fed is what has given us this choppy summer trading pattern.  Vice Chairman Fisher seemed to have more of the team spirit saying: "We should be on a program of gradual rate increases," though he added, "We can afford to be patient" when it comes to acting.  The Fed Governors were all over the place in their statements, however but, generally, all hedged towards data-dependence:
"If we had a lot of good news and we got into the September meeting and other people wanted to go, I could support…

http://welcome.philstockworld.com/wp-content/uploads/2015/09/PSW-Adooma-logo.png
0
0
Phil
http://welcome.philstockworld.com/wp-content/uploads/2015/09/PSW-Adooma-logo.png
Phil
2016-08-29 12:30:54
2016-08-29 12:30:54
Meditative Monday Markets – Contemplating the Fed