Total insanity!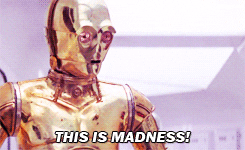 The S&P went down 2.5% and then up 2.5% in less than 48 hours, ostensibly driven down by Mario Draghi first failing to provide the QE measure he had been promising at the actual ECB meeting and then going back up on Friday because he promised more QE at the next meeting.  The man is a serial liar yet EVERY SINGLE TIME the markets take him at his word – it's MADNESS!  
What was really strange about Friday is so many more stocks making new lows than new highs during a 2% rally.  Also, in a real rally – there's usually a LOT more advancing than declining volume. 
Money if flowing into equities because, like Richard Gere, it simply has nowhere else to go.  With negative interest rates, if you put your money in the bank, it's GUARANTEED to get smaller.  The Housing and Commercial Real Estate markets are still fairly dead and usually perform poorly in rising rate environments, Precious Metals aren't precious anymore, Energy Investing is suicide and the last time the Fed had a tightening cycle in the 90s, the value of 10-year notes slipped 75% – no one wants to be caught in that trap again.   
Still, I don't believe in a rally that has no Fundamental basis.  Just because money is being forced into the market – that doesn't mean I should follow it when I'm not being forced.  That's just lemming-like behavior and we, as humans, strive to be better than that, don't we?  I know it's hard when ALL of your friends are jumping over a cliff not to do so yourself – especially when you can hear them shouting "wheeeee!" on the way down so you're sure they are having fun and things can only get better at the bottom, right?  
OPEC failed to curtail production at Friday's meeting and oil is diving below the $40 mark and the biggest economic issue we are ignoring in the US is the impact these prices…

http://welcome.philstockworld.com/wp-content/uploads/2015/09/PSW-Adooma-logo.png
0
0
Phil
http://welcome.philstockworld.com/wp-content/uploads/2015/09/PSW-Adooma-logo.png
Phil
2015-12-07 13:11:00
2015-12-07 13:11:00
Monday Market Madness – Oil Below $40