This is strange.
Trump claims millions of people voted illegally and is using that argument to claim that a recount of the election results is not necessary.  Fortunately, he doesn't have his finger on the button just yet and there will be a recount in 3 states (MI, PA and WI)  and, though it's not likely to change anything in the end, it's likely to cause a bit of market turmoil – in addition to everything else that's going on.
Imagine if the election is overturned and the entire 10% Trump rally evaporates overnight – that would be interesting.  Nothing to worry about so far as we've made it to end-of-month window-dressing time and it's very unlikely "THEY" will let the markets drop away from record highs to close out November but December is going to be trickier as we have that Fed meeting on the 14th and this week already we have 7 Fed speakers to pave the way to the anticipated hike:
As you can see, just the Dallas Fed on the calendar this morning but then things heat up quickly as we get our 2nd estimate of 3rd Quarter GDP tomorrow after the hawkish Fed VC, Fisher has his say but Dudley cleans up after the data and then we see how confident the consumers really are.  Friday is non-Farm Payroll but first we have to get past the OPEC meeting on Wednesday and there's another part of the recent rally that might reverse hard and fast if no deal is reached.  
As you can see from the earnings calendar, we've pretty much run out of interesting companies to watch so the data becomes more important this time of year, until the earnings cycle starts again in January.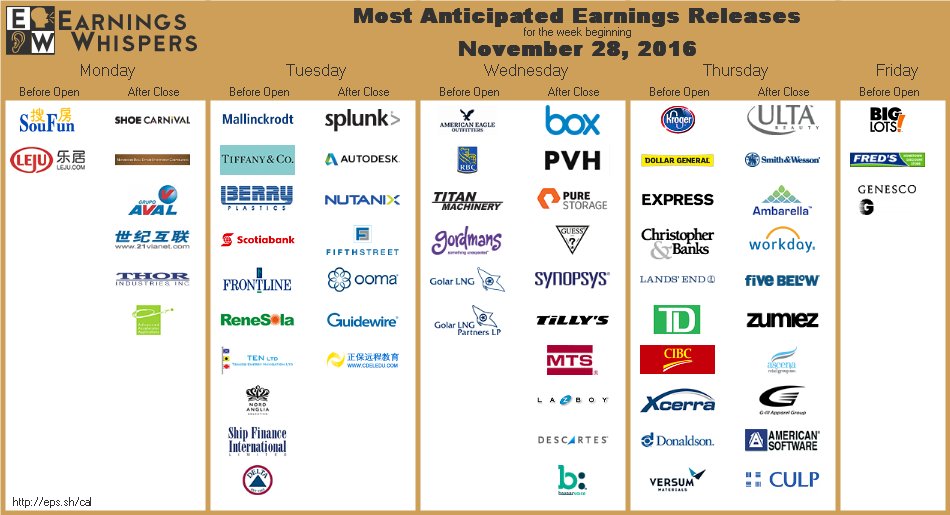 Fortunately, our friends at Goldman Sachs were kind enough to lay out a roadmap for us that takes us all the way through 2017, where the firm predicts we'll finish as 2,200 on the S&P which, unfortunately, is 13-points LOWER than we closed on Friday.  In fact, our Q1 S&P projection is for 2,125, down 4.2% from where we are now but clearly…

http://welcome.philstockworld.com/wp-content/uploads/2015/09/PSW-Adooma-logo.png
0
0
Phil
http://welcome.philstockworld.com/wp-content/uploads/2015/09/PSW-Adooma-logo.png
Phil
2016-11-28 13:17:05
2016-11-28 13:17:05
Monday Market Makeover – Trump Says Millions Voted Illegally, Recount Begins