This actually happened this weekend:
My town was invaded by a parade of protestors.  They had no permits, of course, you aren't even supposed to be out on the street without a face mask but apparently, waving a Trump 2020 banner in Florida is a "get out of jail free" card and men, women and their innocent children risked their lives, and the lives of others to demand that Florida be re-opened.  
Many of the people in the caravans had "Trump" quotes and flags on their cars. There were also some people wearing clothes or bearing signs supportive of the fringe conspiracy theory group, "Q-Anon," and far-right group the Proud Boys.  You know, the usual right wing-nuts, egged on by the President, who tweeted out "LIBERATE VIRGINIA" and other states – as if they were oppressive regimes to be overthrown.  Apparently, someone had told Trump that "Liberate Virginia" meant "Free Vagina" in French and he laughed about it all weekend – and no one in the White House dared to correct the President.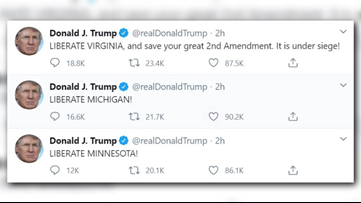 Despite Trump's 59 lies about the Coronavirus Pandemic in just the last 30 days, only 15 states (that's out of 50 – in case you are a Fox News viewer) have contained the spread of the virus (green) while 35 states (again, math done as a courtesy to Fox viewers) still have the virus spreading led by North Dakota, where each infected person is infecting 1.7 other people leading to a 170% spread of the virus every two weeks.  
"We've avoided the cataclysmic outcomes we've seen in other countries and other locations," North Dakota Gov. Doug Burgum boasted in a press conference last week, noting that hospitalizations in the state are only in the teens and deaths remain in single digits.
Sounds like Trump when we "only" had 15 cases in the US.  Now North Dakota has 585 cases and 10 deaths while the US as a whole now has 759,786…

http://welcome.philstockworld.com/wp-content/uploads/2015/09/PSW-Adooma-logo.png
0
0
Phil
http://welcome.philstockworld.com/wp-content/uploads/2015/09/PSW-Adooma-logo.png
Phil
2020-04-20 12:22:24
2020-04-20 12:22:24
Monday Market Mania – Oil Drops to $12, Trump Fans Protest Local Government