Wheeee, what a ride! 
Of course, we expected the pullback, especially from Nasdaq (/NQ) 10,000 but 3,200 on on the S&P 500 (/ES) was also going to be a good resistance line and resistance was not futile in this round as we quickly dropped almost 10% back to test the 3,000 line and now back below the 3,135 line that marks our own 10% line on the Big Chart, which follows our fabulous 5% Rule™.  
We had some RIDICULOUS gains during that rally and we knew it wouldn't last but now we have a real test of the market's resiliance as the virus resurges in many hot spots (something else we told you would happen) and a bit of fear is back in the market even as we are on the cusp of revealing the 2nd quarter's earnings disaster in about a month.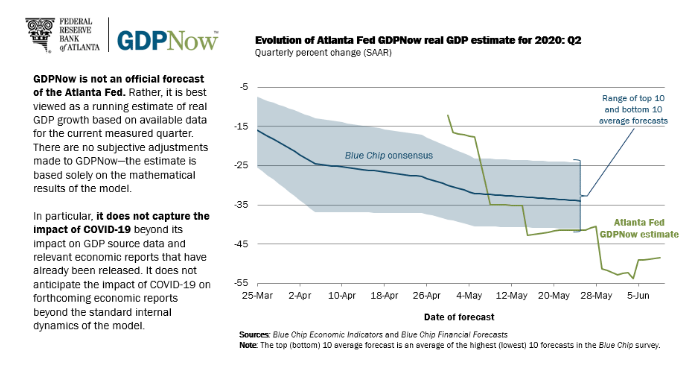 The Atlanta Fed's GDPNow Tracker still has the 2nd quarter coming in at a 50% contraction to Q1 so, logically, Corporate Profits are going to be headed that way as well yet you wouldn't have known that from the record highs we were setting last week.  It was obviously ridiculous and that is why our Short-Term Portfolio, where we manage our hedges for our long portfolios, gained $50,000 last week!  
We did our last review of the STP on the 4th, right in our Morning Report so those are the positions that made $50,000 in 7 days, right there for public consumption.  I feel it is a public service to teach people how to hedge their portfolios properly, so, since our STP is working perfectly to protect our long portfolios at the moment, let's take a look at one of our other monthly portfolios, our Money Talk Portfolio, since they will be interviewing me this afternoon for the show on Wednesday at 7pm on Bloomberg Canada.
The Money Talk Portfolio is constrained to trades that we make on the show so about once every 2-3 months we make changes.  My last appearance was on April 29th and the MTP was up 1.8% at the time, recovering from the hit it took as we were unable to adjust it during the downturn.  We added two positions, Viacom (VIAC) and Macy's (M) and now the portfolio is up 9.3% for the year but now it's time to add a hedge.
IN PROGRESS
http://welcome.philstockworld.com/wp-content/uploads/2015/09/PSW-Adooma-logo.png
0
0
Phil
http://welcome.philstockworld.com/wp-content/uploads/2015/09/PSW-Adooma-logo.png
Phil
2020-06-15 12:43:39
2020-06-15 12:43:39
Monday Market Mayhem – The Madness Continues