GE is restructuring.  
We knew that already and discussed GE in depth (we're still bullish) in this weekend's 2018 Watch List Update, where we identified (so far) a dozen dividend-paying stocks we consider good buys at the current levels, which will become compelling buys if they pull back a bit more with the market.
And the market is pulling back with the Nikkei giving up 1.4% and Europe down almost a full point as Brexit Talks seem like they are failing and our Futures are, so far, down about a quarter point and indicating lower but it's Monday – so anything can happen and it won't mean anything if it does.  I've only got 16 Mondays left until I quit in March (Mondays, not the whole week) so I'm enjoying my last ones before my 20% retirement party. 
Over in Asia, despite still being 40% below their 2007 bubble highs, Chinese stocks are not doing the heavy-lifting required to catch up to the rest of the World, which is right back at the bubble highs.  There was the strong rally of 2015 but that ended in disaster but China has spent many Trillions of Dollars on various stimulus packages over the past two years, and that hasn't helped either.  China has now switched strategies and is ENCOURAGING foreign investors to buy Chinese stocks – that might not end well…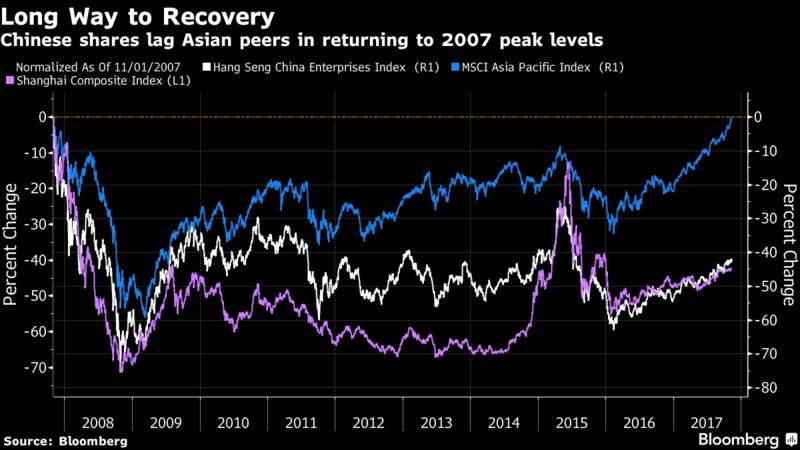 Speaking of things that aren't ending well:  In addtion to Brexit Talks once again breaking down, Europe is a little concerned with "tens of thousands" of White Nationalists marching on Warsaw for the Independence Day Celebration.  While the thousands of torches may have had a festive look and while "Fatherland" is certainly a catchy tune, the new battle cry of the Polish Fascists comes from Donald Trump's July Speech in Warsaw: "We want God," while calling for the extermination of Jews and Muslims. 
…

http://welcome.philstockworld.com/wp-content/uploads/2015/09/PSW-Adooma-logo.png
0
0
Phil
http://welcome.philstockworld.com/wp-content/uploads/2015/09/PSW-Adooma-logo.png
Phil
2017-11-13 13:30:04
2017-11-13 13:30:04
Monday Market Melt-Down Continues With GE's 50% Dividend Cut