And down we go again!
That's OK because last Monday we gapped down 200 points and spent the rest of the week gaining almost 1,000 points and April 27th opened down from the Futures but then we recovered and gained 1,000 points.
With all these 1,000-point gains you would think we'd have made huge progress but not really – we're still hanging around the same 2,850 line on the S&P 500 that we were at last April and the April before that.  There was no virus in April of 2018 or April of 2019 but there also wasn't $6.7Tn in stimulus floating around so, if we are to consider 2,850 the fair value for the S&P 500 – the question is will the stimulus be more or less or exactly enough to counter-act the economic damage of the virus?
Of course, it's not just the United State's $6,700,000,000,000 contribution that matters as the S&P 500 derives more than half its revenues from the rest of the World so their pain is our pain in these circumstances.  Europe has pledged to do whatever it takes and China will be having their delayed, annual People's Congress next week and the PBOC has already promised to provide more economic support (China at about $1Tn so far).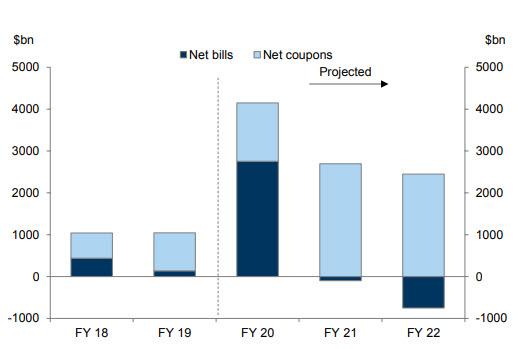 Of course, if we are going to be counting on a long-range recovery to justify paying pre-virus prices for stocks that will clearly NOT be making pre-virus money this year – then we should also be taking into account the damage that is being done by the US (and other nations) racking up a $4Tn Deficit in 2020 – and that's ignoring $4Tn added to the Fed's balance sheet and a very likely additional round of stimulus that's coming.
Does it matter that our Deficit has increased by $7Tn in 4 years (now over $25Tn!) and is projected to run another $3Tn in each 2021 and 2022, or does it really no longer matter how much money we print?  If it doesn't matter, then why aren't we fixing Social Security and Medicare, among others?  The CBO projects the Highway, Pension Benefit Guaranty Corporation Multi-Employer, Medicare Hospital Insurance, Social Security Disability Insurance, and Social Security…

http://welcome.philstockworld.com/wp-content/uploads/2015/09/PSW-Adooma-logo.png
0
0
Phil
http://welcome.philstockworld.com/wp-content/uploads/2015/09/PSW-Adooma-logo.png
Phil
2020-05-11 12:28:03
2020-05-11 12:28:03
Monday Market Momentum Fading Fast