Trade War – so what?
Despite Friday's sell-off, which was more a result of Turkey's currency issues than the escalating Trade Wars, the markets are still generally shrugging off any and all bad news as they continue to march into uncharted territories.  Nothing has changed today – the Turkish Lira is still collapsing only now it's taking other currencies with it and the Trade War talk is heating up between the US and China, the US and Japan, the US and Russia, the US and Europe, the US and Canada and the US and Mexico and I THINK that's all the countries we're fighting with at the momen- all I know is I'm on a cruise with people from all over the World and they all ask me "What the f*ck is wrong with your President?"
So far, we're only scratching the surface of Trump's actions compared to Trump's threats.  About $700Bn worth of tariffs have been threatened which would tax the American consumers $175Bn at 25% but, so far, "only" $63Bn worth of tariffs have been enacted so 1/10th of the way there and look at all the chaos it's already causing.  Want to stay for rounds 2-10?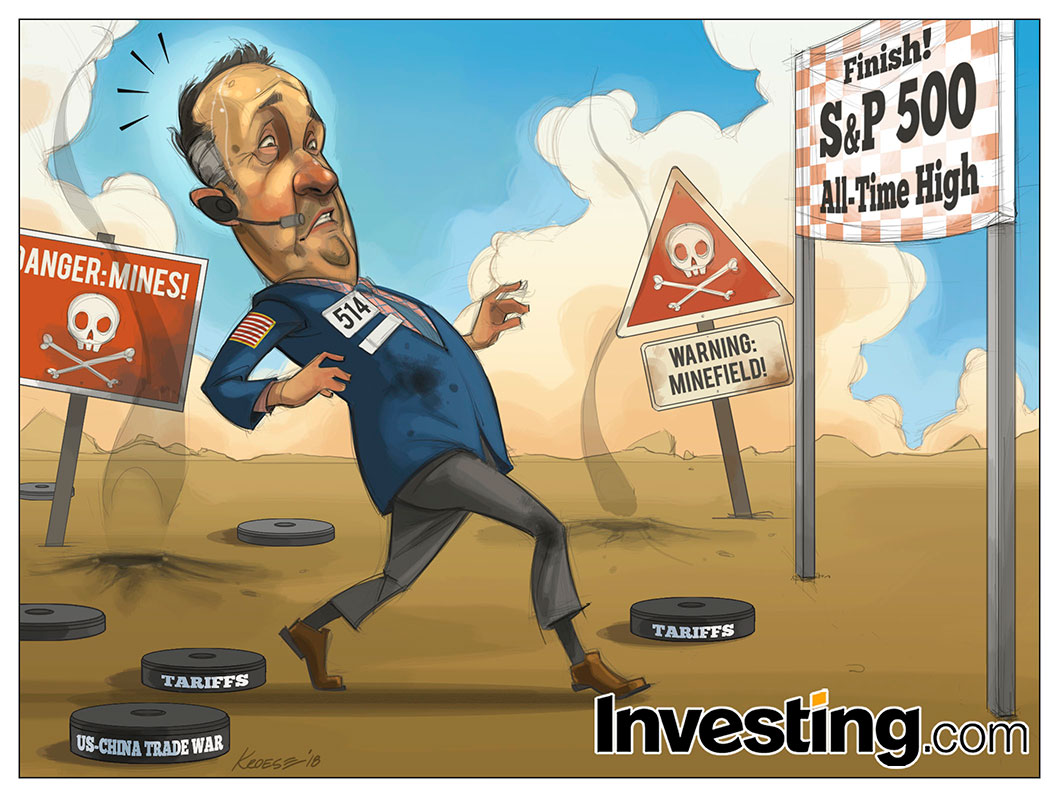 Yet traders seem perfectly happy to ignore the multiple elephants in the room as we party like it's 1999 and now we'll see if last week's dip was the start of a correction or yet another pullback we bounce right back from.  Bounce lines to watch are:
Dow (

/YM

) 25,650 to 25,175 is a 475 drop so we'll call it 100-point bounces to 25,275 (weak) and 25,375 (strong)
S&P (

/ES

) 2,860 to 2,820 is a 40-point drop so call them 10-point bounces to 2,830 (weak) and 2,840 (strong)
Nasdaq (

/NQ

) 7,500 to 7,375 is 125 so we get 25-point bounces to 7,400 (weak) and 7,425 (strong)
Russell (

/RTY

) 1,700 to 1,675 is 25 points so 5-point bounces to 1,680 (weak) and 1,685 (strong)
We're certainly going to get our weak bounces and probably strong bounces into the open but what matters is what holds for the day…

http://welcome.philstockworld.com/wp-content/uploads/2015/09/PSW-Adooma-logo.png
0
0
Phil
http://welcome.philstockworld.com/wp-content/uploads/2015/09/PSW-Adooma-logo.png
Phil
2018-08-13 12:29:27
2018-08-13 12:29:27
Monday Market Movement – Bouncing Back to Highs?