No kaboom.  
Trump has been President all weekend and the World is still here so I suppose we're going to have to formulate a trading strategy going forward.  We reviewed our 4 Member Porfolios over the weekend and we are 75-90% in CASH!!! and, if the World continues not to end this week – we will be looking for more opportunities to deploy some of it.
Of course we're already dealing with the first crisis of the Trump Administration – How big was the crowd at the inauguration?  You might think, "who cares" if you are a rational person but crowd size experts told the New York Times they estimated Trump's audience at fewer than 200,000 people, and widely distributed side-by-side photographs showed the stark contrast between the comparatively sparse crowd for Trump's inauguration and the record-setting crowd for Obama's first.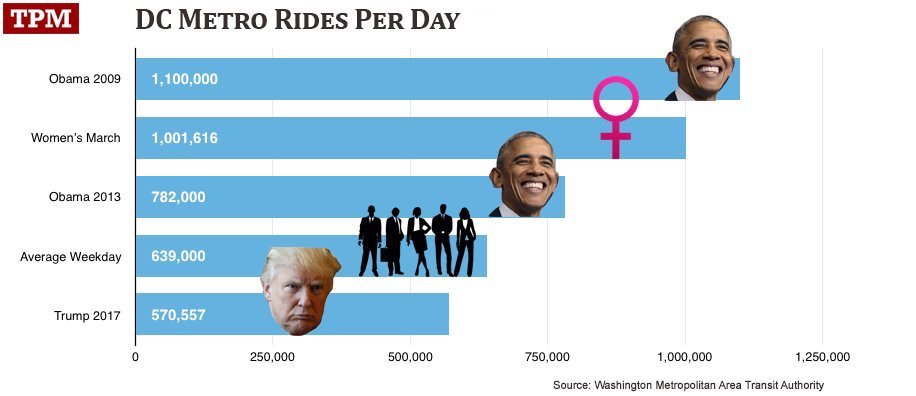 The President of the United States of America said the press was lying and under-reporting the crowd and White House Press Secretary Sean Spicer gathered the press to deliver a five-minute statement Saturday in which he issued multiple falsehoods, declaring erroneously the number of people who used the D.C. metro on Friday, that there was a change in security measures this year and that "this was the largest audience to ever witness an inauguration, period, both in person and around the globe."  "These attempts to lessen the enthusiasm of the inauguration are shameful and wrong," Spicer said Saturday.
Then things get really freaky as Trump's conselor, Kellyanne Conway, went on Meet the press to confront the liberal media head on and ended up fighting with Chuck Todd and threatening NBC, saying "I think we're going to have to rethink our relationship here."   You have to see it to believe it:
Nope, I still don't believe it!  As noted by Todd, when the President's Press Secretary blatantly lies in his first Press Conference it undermines the credibility of the entire administration.  Even more frightening is Conway's statement that: "You're saying it's a falsehood and Sean Spicer, our press secretary, gave alternative facts to…

http://welcome.philstockworld.com/wp-content/uploads/2015/09/PSW-Adooma-logo.png
0
0
Phil
http://welcome.philstockworld.com/wp-content/uploads/2015/09/PSW-Adooma-logo.png
Phil
2017-01-23 10:12:58
2017-01-23 10:12:58
Monday Market Movement – Nervous Trading in a New World