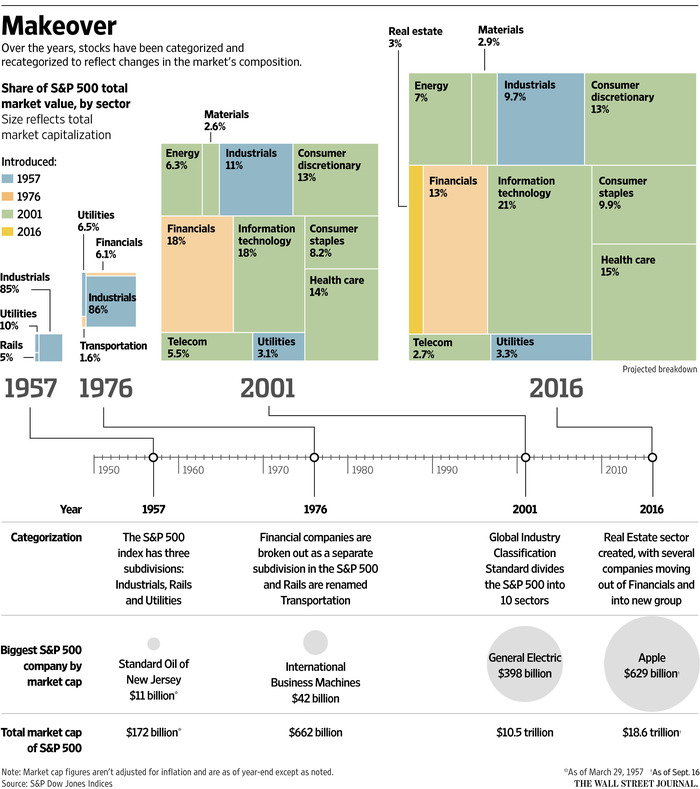 Rearranging deck chairs on the Titanic.  
That's the image that springs to mind as the S&P breaks Real Estate out of the Financial sector after the close today in a move that BMO Capital says is not likely to have a significant effect on either the new sector or the S&P overall.  REITs are, in fact, up 14% for the year but the ETF (VNQ) has pulled back sharply, from $90 back to $85 (5.5%) this month – a strong retrace of the 20% run-up as predicted by our 5% Rule™.
Notice how Industrials have fallen from 86% of the S&P in 1976 (pre-Reagan) to 9.7% on Friday but it was already down to 11% in 2001 – it took just 25 years after our Bicentennial to destroy 75% of those jobs in America.  Health care became a monstrous 15% of our market (thanks Nixon), double what it is in any other developed nation.  IT is a dominating 21% of the index these days now more so as the Financial sector is cut from 16% to 13% though Real Estate will still move in lock-step with Financials, so what's the point?
One effect we're going to see is the dividend yield of the Financial Sector is going to dwindle as all the high-yielding REITs are moving out of their neighborhood.  We have the FOMC Rate Decision on Wednesday (2pm) and it's a coint toss whether or not they raise rates at this meeting but Treasuries haven't waited and have already been rising – taking a steep toll on dividend-paying stocks as people opt for the (supposedly) risk-free alternative: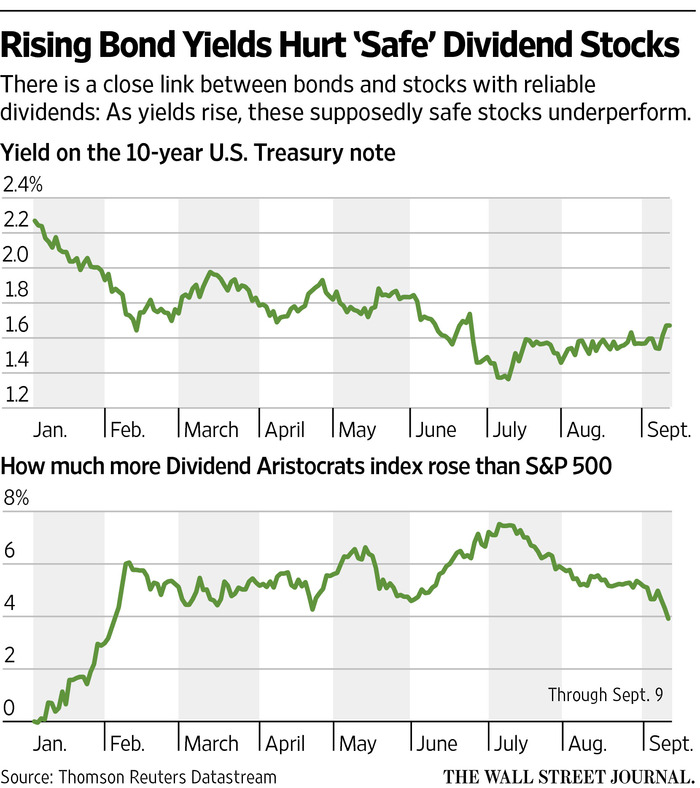 In truth, Treasuries are far from risk-free.  Even if you assume the country you are investing in will be able to pay you back, you still run the risk of the currency devaluing during your holding period – causing you to literally get paid back in paper that is worth less (worthless?).  Another way bond-holders get killed is when rates begin to climb.  That causes their low-rate paper to become unattractive and, should they try to unload it, they may have to do so at a steep discount.  
Nonetheless, there's only so many $100 bills you can…

http://welcome.philstockworld.com/wp-content/uploads/2015/09/PSW-Adooma-logo.png
0
0
Phil
http://welcome.philstockworld.com/wp-content/uploads/2015/09/PSW-Adooma-logo.png
Phil
2016-09-19 12:03:31
2016-09-19 12:03:31
Monday Market Movement – S&P 500 Rebalancing is Just Deck Chairs on the Titanic