Another day another 1.5% gain.
This is why we can't cash out our long portfolios, as much as we'd like to.  The problem is we are going to have a very hard time protecting our ill-gotten gains from the correction – if and when it ever does come but, so far, the flow of money from the Fed and the endless stimulus by the Government is the rising tide that is floating all boats – no matter how rough the waters.  
Investors are "exhberant" but is it really irrational when so much money is being thrown at the stock market?  This is historically unprecedented.  Here we are at the start of Q3 and we already heard on Friday that Q2 was a disaster for the Auto Industry and Earnings Reports kick off next week with PEP, C, JPM, WFC, UAL, BK, GS, PNC, PGR, USB and UNH reporting by Wednesday.  This week we have just a few but nothing terribly exciting so we'll have to wait until next week to see if the markets can skip over Q2's almost certain disaster: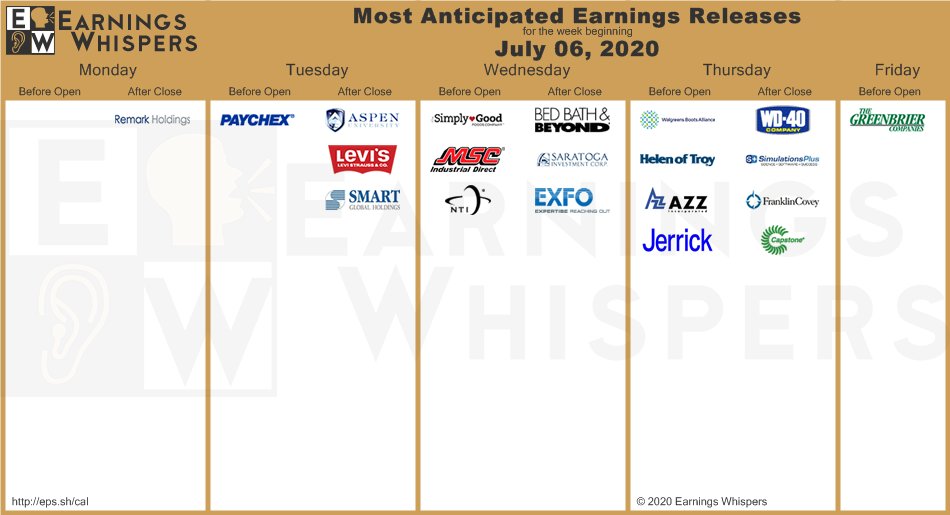 The Atlanta Fed has increased their GDP Now Forecast to -35% from -54% for Q2 so I guess that's great news.  I'm not sure if -35% deserves new record highs in the stock market but it is certainly better than -54% thanks to that very clever re-opening thing we've been doing for the past month under the guidance of Supreme Leader Donald Trump.
According to our President, a few people "caught the sniffles" this weekend – a record amount, in fact – but it's nothing to worry about and no reason to chicken out and go back to our cowardly lockdowns that were damaging his economy.  I know I'm inspired.
"Experts say the president appears to have seized only on a death rate estimate of 1 percent or less that does not capture the entire impact of the disease, and excludes
…

http://welcome.philstockworld.com/wp-content/uploads/2015/09/PSW-Adooma-logo.png
0
0
Phil
http://welcome.philstockworld.com/wp-content/uploads/2015/09/PSW-Adooma-logo.png
Phil
2020-07-06 12:33:59
2020-07-06 12:33:59
Monday Market Movement – Up and Up and UP!