Government shudown! 
No one really cares.  It sounds like somethign, but it's nothing.  The government was shut down for 2 weeks in 2013 and hardly anyone noticed and, frankly, this Government has been dystfunctional for pretty much all of 2017, so it's not like we're going to miss it.  Meanwhile, our President is tweeting from the twilight zone where Global Warming is "good weather" and millions of women marching against him all over the country is a "celebration" of his policies.  You can't make this stuff up.  No, really, you can't, because a sane person couldn't imagine having that reaction to what is actually happening.  
Meanwhile, the last time the markets were this bullish was 1987 and we begain that year with a rally from S&P 250 to S&P 335 in August and then back to 200 (-40%) in October – so a hell of a fun ride that time!  More recently though, we were also very enthusiastic in 2015 and there we topped out, also in August, at 2,200 on the S&P and we only fell to 1,850 (-16%) into 2016 so maybe this rally can last into the summer but, if it does, it will be the most overbought, overconfident market ever measured – much healthier to have a small correction now. 
We added some portfolio hedges into the Government shut-down weekend but, so far, there's no indication that the markets care and we assume there will be a relief rally once Congress comes to an agreement so, if anything, we may go higher from here.  Earnings, so far, have not been bad so no particular reason for a pullback but, this week, 20% of the S&P 500 (100) Companies will report and then we'll have a pretty good picture of what's happening in various sectors.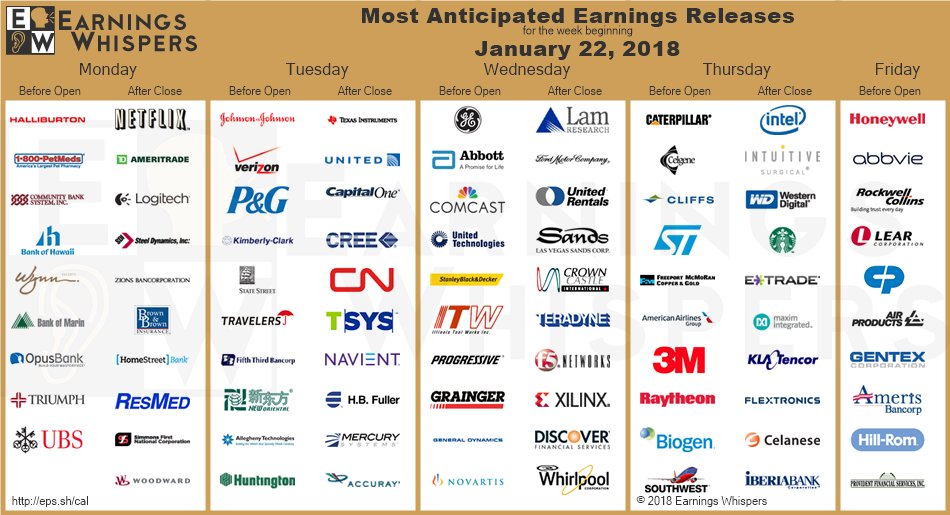 Not only is there not much data scheduled to be released this week but it might not be released at all if the Government contines to be shut down.  Currently on the schedule are reports from the Chicago, Richmond and Kansas City Feds along with some housing data but nothing major until we get our GDP and Durable Good Reports on Friday.  All of this is up…

http://welcome.philstockworld.com/wp-content/uploads/2015/09/PSW-Adooma-logo.png
0
0
Phil
http://welcome.philstockworld.com/wp-content/uploads/2015/09/PSW-Adooma-logo.png
Phil
2018-01-22 13:13:10
2018-01-22 13:13:10
Monday Market Movement – With No Government, What Will Move Us?