Abenomics lives!  
Japan's Prime Minister Shinzo Abe was re-elected this weekend and his party was given a 2/3 majority in the Diet (Parliament) which paves the path to a Consitutional Amendment that will allow Japan, after a 72-year break, to re-arm their military and, of course, allows the Bank of Japan to keep printing Yen like Pokemon cards, which also exploded higher this weekend. 
Of course, we told you this was going to happen in last Wednesday morning's post when I said:
In anticipation of BOJ action, we like /NKD long at 15,250 (tight stops below) and we'll be making an options play on the Japan ETF (EWJ) which is hopefully bottoming at $11.40.
Those /NKD Futures are now over 16,000 for a profit of $3,750 per contract in less than a week and EWJ should be heading to near $12 this morning so, even if you are only a stock player, that's +5% in less than a week – you're welcome!  Remember, I can only tell you what's going to happen and how to make money trading it – the rest is up to you…
Sadly for the non-paying readers (I was told it's not nice to call them cheapskates), we don't give away free trade ideas during earnings months but I can tell you we're seeing some amazing shorting opportunities as certain stocks have gotten way ahead of themselves.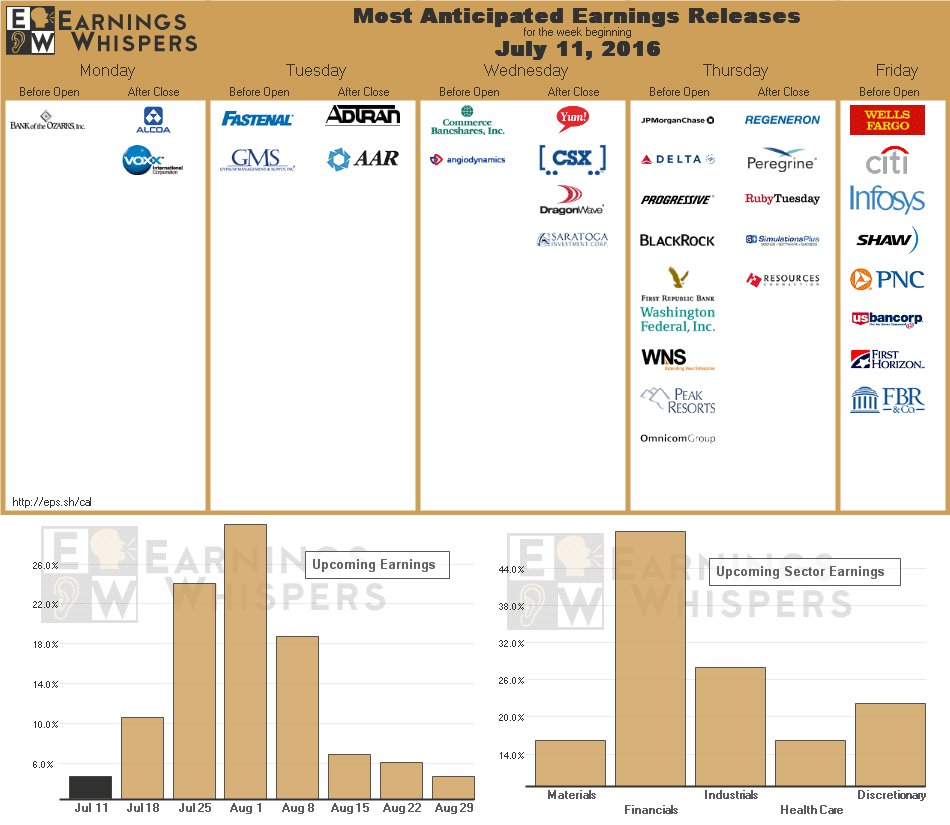 This week, we'll focus on the Financials but we'll have to be patient as the big boys don't weigh in until Thursday.  Alcoa (AA) is splitting up the company so we're more interested in the conference call than the earnings report and Commerce Bank (CBSH) is one of those companies that may be ahead of themselves at $47.16 and Yum (YUM) is priced to perfection and CSX (CSX) may be too ambitious as well.  It's too early to make bets, but the results will be telling.
IN PROGRESS
http://welcome.philstockworld.com/wp-content/uploads/2015/09/PSW-Adooma-logo.png
0
0
Phil
http://welcome.philstockworld.com/wp-content/uploads/2015/09/PSW-Adooma-logo.png
Phil
2016-07-11 11:58:51
2016-07-11 11:58:51
Monday Market Movers – Nikkei Explodes Higher on Abe Landslide