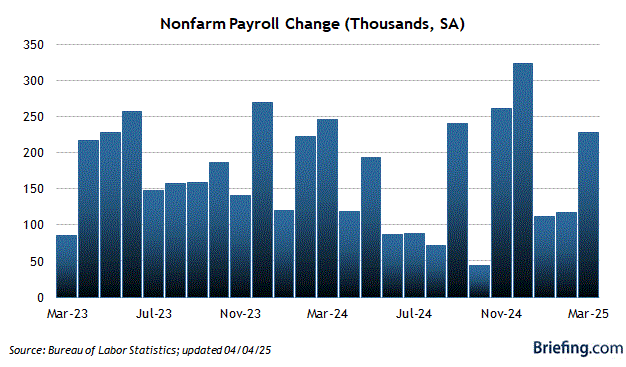 Could this be the last straw?
We're getting the Non-Farm Payroll Report at 8:30 and it's usually a market-mover but more so this week as it will confirm or deny a worsening economy.  At the moment, I've refrained from getting more bearish as I think the 20% correction is enough and that, though people are freaked out about Trade issues and Government Shutdowns – these are self-inflicted wounds that can be quickly reversed – so it doesn't play into our long-term investing outlook, which anticipated this 20% correction all summer long.  The only surprise was how long it took us to be right.  
Our long-term bullish premise is predicated on more jobs and higher wages driving forward a virtuous economic cycle that will bring about some inflation, but the good kind that is the result of rising wages, which makes fixed consumer debts like home and auto loans easier to pay down over time.  Remember the good old days when you were disappointed that you only got a 5% raise?  You have to be pretty old at this point to remember inflation being your friend – when we could buy a car or a home we couldn't really afford because we fully expected our salaries to double over the next 5 or so years in almost any job.  
The first Bush Banking Crisis of 1986 was, in large part caused by a slowdown in wage growth (thanks to Reaganomics, now known as Trump's Tax Plan) and the models used by the banks for lending and the assumptions our workers made for buying a home were not adjusted fast enough to allow for flat wages and flat home prices and people found they were in far over their heads on 8-14% morgages without enough equity to refinance – even as rates ticked lower.  That led to the failure of about 1/3 of all Savings and Loan Associations, which led to the rise of the mega-banks which took their place – only to have their own crisis as Bush II repeated the sins of his father. 
Though Trump is repeating those same economic mistakes, at least he hasn't done anything to stop the increases in minimum wages that…

http://welcome.philstockworld.com/wp-content/uploads/2015/09/PSW-Adooma-logo.png
0
0
Phil
http://welcome.philstockworld.com/wp-content/uploads/2015/09/PSW-Adooma-logo.png
Phil
2019-01-04 13:26:25
2019-01-04 13:26:25
Non-Farm Friday – The Sum of All Fears