"And, has thou slain the Jabberwock?

  Come to my arms, my beamish boy!

O frabjous day! Callooh! Callay!'

  He chortled in his joy.
`Twas brillig, and the slithy toves did gyre and gimble in the wabe.  All mimsy were the borogoves, and the mome raths outgrabe.
Yep, that's about how much sense the morning run makes as the UK heads to the polls on Brexit day.  Early exit polls show the Remain camp with a slight lead and our indexes have rocketed back to their highs, where we've taken the opportunity to short them this morning.  My note to our Members in our Live Chat Room was:
Nice test of 2,100 on /ES, which is a good shorting line along with 17,8000 on /YM, 4,450 on /NQ and 1,160 on /TF and 16,600 on /NKD is ridiculous since the Dollar is down half a point (93.23) but safer to short the US indexes since the Dollar coming back would be good for /NKD.

For our Futures, we're shorting at the 1% lines and expecting at least a small pullback off the EU's 2.5% lines to pull us back a bit.  /NKD is happy because it's the Euro and Pound driving down the Yen, not the Dollar..
It's very easy to play the Futures.  We had a Live Trading Webinar yesterday and we made $475 in 30 minutes just demonstrating it (we were long Oil (/CL) and Gasoline (/RB) Futures at the time, now short oil at $50 with tight stops above).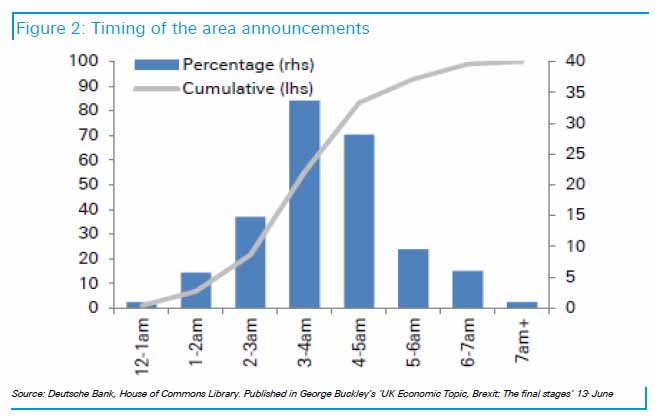 Why are we shorting?  Aside from the obvious technical reason, the initial reaction is often an over-reaction and there is NO WAY that they can be certain of the vote since they haven't even begun to count yet.  In fact, per this chart of the UK announcements, we won't hear the first official count until midnight, EST as the polls don't even close until 10pm in the UK (5 pm, EST) so, much like our Presidential elections – anyone who calls a winner…

http://welcome.philstockworld.com/wp-content/uploads/2015/09/PSW-Adooma-logo.png
0
0
Phil
http://welcome.philstockworld.com/wp-content/uploads/2015/09/PSW-Adooma-logo.png
Phil
2016-06-23 11:56:29
2016-06-23 11:56:29
O Brexit Day! Callooh! Callay!