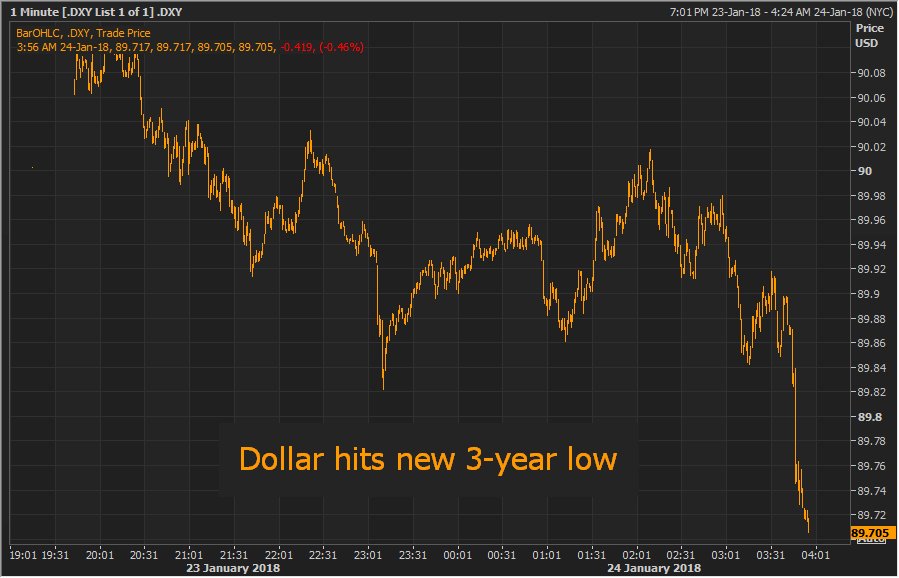 How low can we go?
Clearly the US Dollar has fallen out of favor, now down 12.5% since Donald Trump took office.  Since the S&P is priced in Dollars, that means it should be  at least 12.5% higher simply to adjust for the weakness in the currency you use to buy it and, over the same period, the S&P has marched from 2,275 to 2,847 so 25% – the market has doubled the Dollar's move, which is actually a typical reaction by the market.
Unfortunately, we have to consider that earnings are also priced in Dollars so companies that aren't earning 12.5% more than they earned last year are actually losing ground when priced in gold, silver, Euros, Yen, Yuan, BitCoin, oil, etc…  This is especially true for S&P 500 companies who make more than half their money overseas and are currently getting the most favorable conversion rates in decades – making this a great time to repatriate money.
Repatriation is also driving the Dollar lower as we're getting a tsunami of Dollars blowing back into the country from overseas.  Some estimate put the number at $2 Trillion that will come back into the country – compare that to $960Bn added to the economy in a year of peak QE by the Fed.  
This is why bonds are collapsing and our rates are going higher – whether the Fed takes action or not – because if you want people to lend you money priced in, yuch, Dollars – you'd better give them a really good rate of return to compensate for the crappy currency you are promising to pay them in.  
Making America great again by changing the measuring stick is not the best way to run a country.  It's like claiming your kid got taller because he was 60 Inches tall but now he's 152.4 Centimeters tall – it's the exact same thing but it sounds like more.  In fact, the last leg of the Dollar dive was caused by Trumps own Treasury Secretary and film producer, Steve Mnuchin, who actually just said at Davos:  "Obviously a weaker dollar is good for us as it relates to trade and opportunities" adding that the currency's short term value is "not a concern of ours at all." …

http://welcome.philstockworld.com/wp-content/uploads/2015/09/PSW-Adooma-logo.png
0
0
Phil
http://welcome.philstockworld.com/wp-content/uploads/2015/09/PSW-Adooma-logo.png
Phil
2018-01-24 13:33:38
2018-01-24 13:33:38
Record High Wednesday – Diving Dollar Boosts Equity Markets