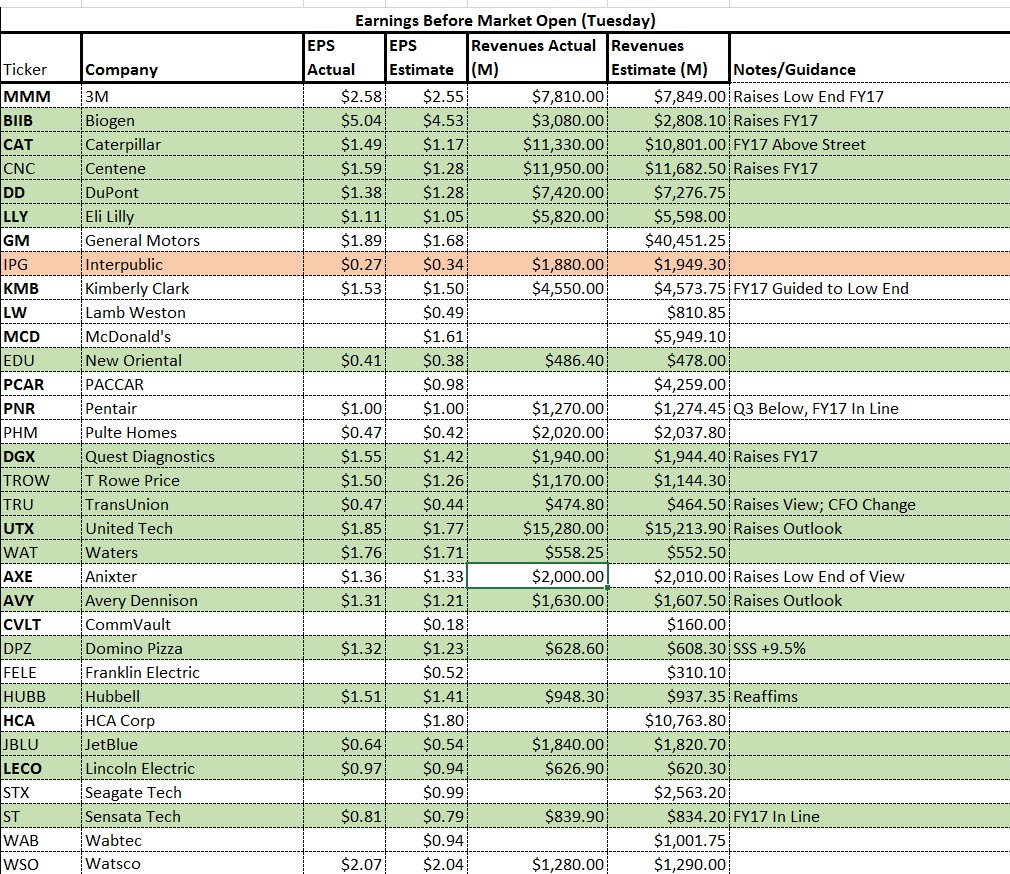 Beat crazy!  
With the very notable exception of Google (GOOGL), who had higher than expected Traffic Acquisition Costs, most of today's reporting companies are nicely green and oil (USO) is back to our shorting line at $47.20 (/CL Futures) after yeasterdsay's failure to turn back down from $46.50, which is a loss of $700 per contract if you did not heed our warning, in yesterday morning's PSW Report, to use tight stops.
Nonethelss, you can be redeemed by doubling down at $47.20, which would raise your short average to $46.85 and then get out of at least half even there and back to tight stops above $47.25, which we shouldn't even see if oil remains weak.  That lines up with $49.50 on Brent Oil (/BZ) – which also should be a point of non-futile resistance.  
Seagate (STX) just missed and is down 20% and that does not bode well for Amazon (AMZN), who we've been shorting to no avail, as the only place they make any money is cloud storage.  That's right, turns out it's not profitable to pack and ship you a $3.99 case of Pepsi overnight – who'd have thought?  I was at the post office yesterday, contemplating what a stupid business Amazon really is.  Yes, it's nice that they can ship me all that stuff but, even at the post office, shipping costs are expensive and AMZN doesn't MAKE the stuff they ship, they only get a commission on it.  Even if they send you a book, where they take 30% of the sale price – by the time they pack, wrap and ship it to you – it's break-even at best.
That's why Amazon doesn't have any real competition – there's no money in their business, why would anyone compete?  Don't get me wrong, you can sell the crap out of a service that doesn't make any money because the people will love it but how long before they wise up?  For instance, I was at the super market and I saw Starbucks (SBUX) Cold Brew Cofee with cream, cocoa and honey – 3 things I like in coffee so, even though it was $4, I had to buy one and it was…

http://welcome.philstockworld.com/wp-content/uploads/2015/09/PSW-Adooma-logo.png
0
0
Phil
http://welcome.philstockworld.com/wp-content/uploads/2015/09/PSW-Adooma-logo.png
Phil
2017-07-25 12:34:10
2017-07-25 12:34:10
Tempting Tuesday – S&P 2,500 in Sight