Up, up and away!  
The markets are looking well-rested after a long weekend and US Futures are once again off to the races – for no particular reason, of course.  Who needs a reason when things are going to be so great – again?  Things in Europe are pretty great, despite the rampant Socialism and, ew, immigrants – as Eurozone Business Activity jumped from 54.4 to 56 in February – the best reading in 6 years.  
Those fools are still following those failed Obama-style policies the Trump team has vowed to reverse as quickly as possible so let's hope the President will be able to save us from impending prosperity or, even worse, successful diversity and that disgusting goodwill towards refugees and don't even get me started on free trade, free medicine and housing for the poor – it's a sick, depraved state and they're not going to fool us with all their "success" – we know a Socialist plot when we see one, right?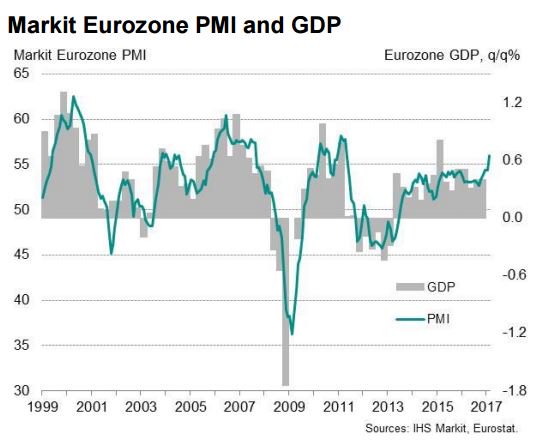 Fortunately, our Top Trade Ideas (see review here) since the election have been 95% bullish with 11 of our 14 November/December picks already making money (they are generally long-term trade ideas).  The 3 "losers" (so far) are certainly worth a look, especially our lone bearish hedge using the Dow Ultra-Short ETF (DXD), offset with a short put on Bed, Bath and Beyond (BBBY), though the original trade is down so the new set-up would be:
Sell 10 BBBY 2019 $35 puts for $3.45 ($3,450)
Buy 40 DXD July $12 calls at $1.30 ($5,200) 
Sell 40 DXD July 16 calls at 0.35 ($1,400) 
The net of that spread is $350 and it gives you $12,000 of upside protection if DXD goes from $13 to $15, which is up 15% and DXD is a 2x short so the Dow would have to fall 7.5% to collect in full but, at $13, the spread is $1 in the money and pays $4,000 (a $3,650, 1,042% return on cash) if the Dow simply doesn't go higher than 20,600.  That makes it an excellent hedge. 
http://welcome.philstockworld.com/wp-content/uploads/2015/09/PSW-Adooma-logo.png
0
0
Phil
http://welcome.philstockworld.com/wp-content/uploads/2015/09/PSW-Adooma-logo.png
Phil
2017-02-21 13:38:56
2017-02-21 13:38:56
Terrific Tuesday – Market Comes Back With Higher Highs