What can go wrong?
Well, for one thing, the Fed could tighten.  As you can see from the Fed's own projections, which are to be released tomorrow (but are on their web site today), the Fed is projecting a Fed Funds Rate of 2.9-3.9% next year.  This year it was a much wider -0.1 to 2.9% and we're right in the middle at 1.25% but what if we're in the middle next year at 3.5%?  Are you ready for a 2.25% rate hike?  Is anybody?
Certainly people with adjustable mortgages are not ready or revolving debt (reccord highs) or variable loans like Corporations tend to have, which would add $400Bn to their $2Tn debt balance.  Are the banks ready to have their loan margins squeezed as rates climb, which is often the case?  
Even just 3% would require 7 rate hikes in 8 meetings – unless the Fed hikes us this year, then it would be 6 of 8 or, if they surprise us and hike tomorrow, they buy a bit of fexibility next year and "only" have to hike rates 0.25 every other meeting, plut one.  Their other projections are on track.  The market thought lowering the Q3 GDP forecast (see yesterday's Morning Report) would keep the Fed off the table but they are only projecting 2.0-2.4% GDP for 2017 and LESS next year – so we're right on track.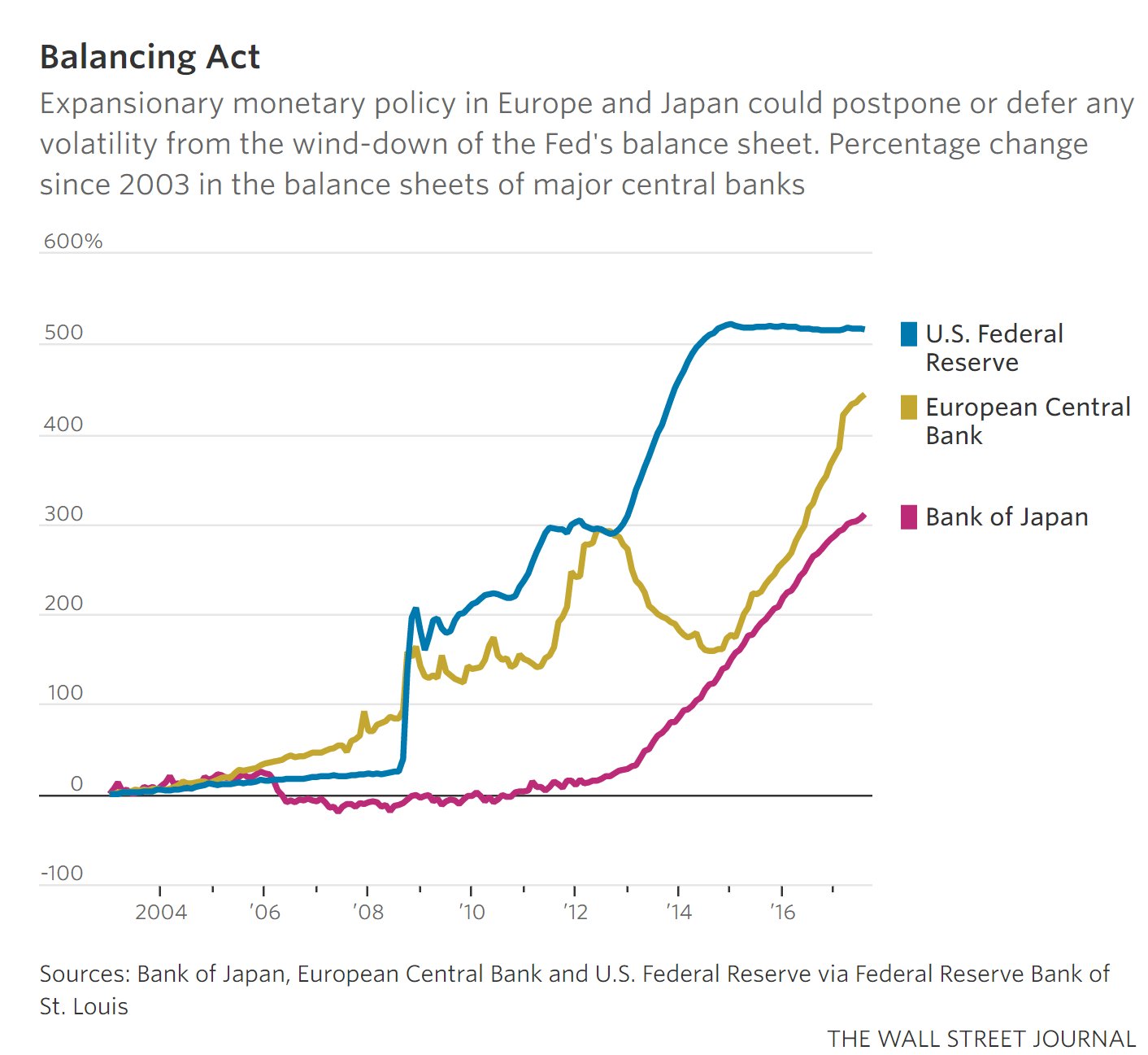 Unemployment is below their target, Inflation is above – there's really no excuse for the Fed NOT to raise rates so don't be surprised if everyone is surprised tomorrow by a quarter-point hike, hurricane or no hurricane.  Of much more concern than the rates going up (though the repercussions of that alone will be tragic) is the potential unwinding of the Fed's Balance Sheet, which currently stands at $4.47 TRILLION and that's up about $3.7Tn since 2008.  
Even if the Fed "only" withdraws their money over the same 8 years they put it in, that's $500Bn a year coming OUT of the economy – no wonder they project a significantly lower GDP next year!   Meanwhile, the BOJ and the ECB have been putting in $400Bn a month and Japan's stimulus is so out of proportion to their $5Tn economy…

http://welcome.philstockworld.com/wp-content/uploads/2015/09/PSW-Adooma-logo.png
0
0
Phil
http://welcome.philstockworld.com/wp-content/uploads/2015/09/PSW-Adooma-logo.png
Phil
2017-09-19 12:33:18
2017-09-19 12:33:18
Testy Tuesday – All Time Highs Ahead of the Fed, What Can Go Wrong?