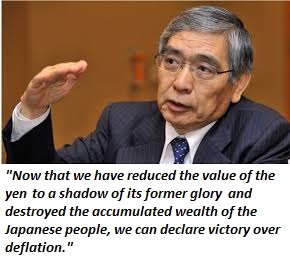 You are welcome!
That's right, yesterday we told you that the Nikkei was facing the Kobayashi Maru and we picked a short on the Futures (/NKD) at 16,830 and m-m-m-my Kuroda literally went to war with with us, calling the Yen's recent strenght "excessive" and warning speculators (us) not to get on the wrong side (our side) of his trade.  Rather than getting out, we decided to press our bet as the Nikkei tested the 17,000 line (down $850 per contract) as I said to our Members in Live Chat at 11:43 pm (yes, we work that long and hard):
What complete and utter BS!  

I'm still in and would like to add some more to bring the average up to 16,800 if possible – no change in premise – just more talk and no actual action.  Hopefully, we'll be back to 16,800 by 3am (EU open).  
That was a reference to our original sub-16,800 entry from Wednesday's Live Trading Webinar (replay available here) where we began the conviction short on /NKD, which was targeted for a weekend trade anyway as the no-win scenario plays out for Japan at Sunday's OPEC meeting.  That's enabled us to cut back to 5 shorts on /NKD with an average entry at 16,838 and, so far, a net profit of $2,075 – not bad for a trade we initiated on Wednesay afternoon although it almost broke our streak of winning webinar trades as it got off to a bad stop.
As I write this (8:05) we're now down to 16,700 so 16,750 is now our stop to lock in a $2,000 gain on 5 contracts and each 100 points now is good for another $2,500 and our target is that 16,000 line but each 100 we drop, we lower the bar on 1 more contract to the last 100 line we pass.  For the Futures challenged, in our Webinar, we discussed playing the…

http://welcome.philstockworld.com/wp-content/uploads/2015/09/PSW-Adooma-logo.png
0
0
Phil
http://welcome.philstockworld.com/wp-content/uploads/2015/09/PSW-Adooma-logo.png
Phil
2016-04-15 12:36:55
2016-04-15 12:36:55
TGIF – Stop the Rally, We Want to Cash Out!