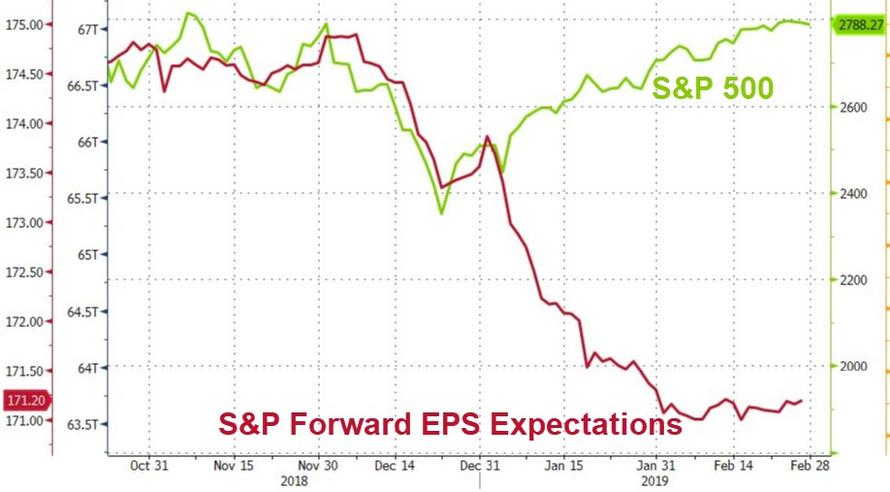 Back to 2,800!
As you can see from the chart, S&P earnings are down about 1% since September but the S&P itself it up 1%, back to the critical 2,800 line (again) and we'll see if it sticks but the /ES Futures are a fantastic short below that line with very tight stops above.  What I find most interesting on this chart, however, is the "value" of the S&P 500 stocks now bushing $67Tn and I'll tell you why that is important.
You can look and look and look but you can't find a good number on the total Profit of US Corporations because they, and the Government, work very hard to obscure that information from the public.  Why?  Because if the public understood just how much money Corporate America was makin and how little they are paying in taxes – there would be lynchings – and NOT the kind the GOP like!
$67 TRILLION is a good clue about corportate profits because you know that the S&P is trading at roughly 22x forward earnings so, if the valuation is $67Tn, we divide that by 22 and find that profits must be $3.05Tn.  That makes sense becuase Apple alone makes $60Bn and they are about 2% of the S&P so 50 x $60Bn is $3Tn also.  Well that's settled then, JUST the 500 companies in the S&P 500 make $3Tn and figure $3Tn for the other 5,500 public companies is $6Tn and than whatever all the private companies (Cargill, Koch, Deloitte, Pricewaterhouse, Mars, Publix, Bechtel…) make has got to be at least another $2Tn so that's about $8Tn in PROFITS for our Corporate Masters and let's see what they paid in taxes last year:
$297Bn???  WTF???  That's just 1.5% of our GDP and Corporate Profits are 40% of our total GDP – they are barely paying 10% of their profits in taxes!  165M wage-earners making $50,000 a year get paid $8.25Tn – about the same as the corporations make in profits, yet they paid $1.6Tn in Income Taxes (20%) and another $1.2Tn (15%) in Payroll Taxes.  
…

http://welcome.philstockworld.com/wp-content/uploads/2015/09/PSW-Adooma-logo.png
0
0
Phil
http://welcome.philstockworld.com/wp-content/uploads/2015/09/PSW-Adooma-logo.png
Phil
2019-03-01 12:50:33
2019-03-01 12:50:33
TGIF – Trade Talk (Again) Pops Us into the Weekend