"Woah, we're half way there

Woah, livin' on a prayer

Take my hand, we'll make it I swear

Woah, livin' on a prayer" – Bon Jovi
It's too early to tell if we'll have to be playing "Stuck in the Middle With You" into the weekend but we're certainly right in the center of the 50 and 200-day moving averages and exactly halfway back from our recent dip from 3,025 to 2,825 at 2,925 so all we can do is sit back and see what happens tomorrow as Jerry Powell speaks to us from Jackson Hole at 10 am.  
The volume has been anemic this week so there are simply no tea leaves to read but, as you can see from the S&P 500 chart, we've fallen comfortably below the 200-day moving average and it is going to take more than lip service to jack the indexes back over the line though it is encouraging to see the 50-day moving average curving up slightly – indicating we could have a sustainable rally if we can keep things together for the rest of the month.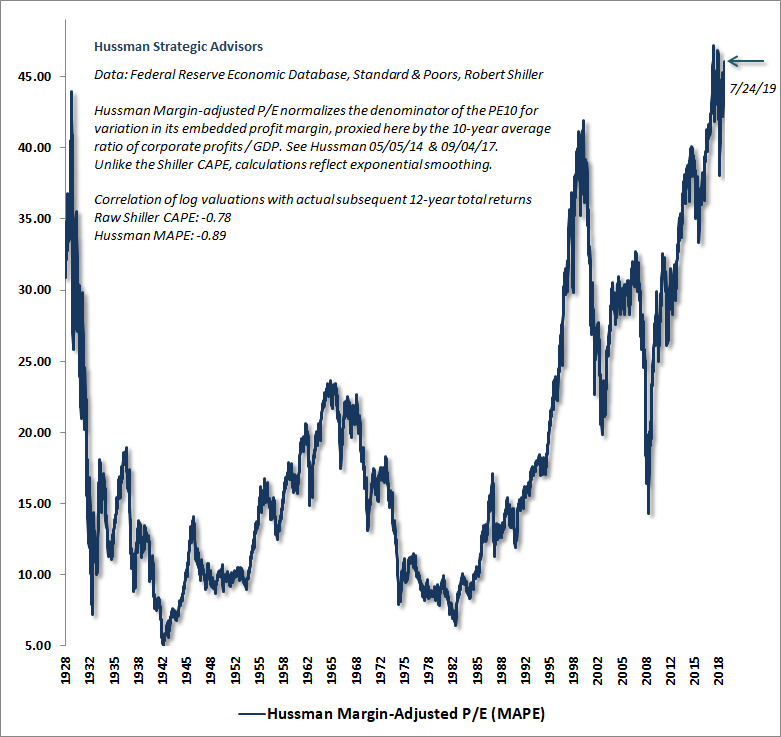 It's all about Jackson Hole on Friday though all we're really going to get there is more Fed spin and, as I noted in yesterday's Live Trading Webinar, I'm getting more and more inclined to cash out our portfolios while we can as we're finding less and less things to buy and, as value investors – that's a pretty good sign the market is putting in a top – something John Hussman agrees with us on in his August letter.  
As you can see from Hussman's P/E chart, we've now passed the madness of 1999 and miles above where we crashed in 2008 and he has a dozen other charts and graphs to illustrate the point but my point, which I emphatically made yesterday, is that it simply isn't worth…

http://welcome.philstockworld.com/wp-content/uploads/2015/09/PSW-Adooma-logo.png
0
0
Phil
http://welcome.philstockworld.com/wp-content/uploads/2015/09/PSW-Adooma-logo.png
Phil
2019-08-22 12:31:24
2019-08-22 12:31:24
Thrilling Thursday – Markets are Half-Recovered Ahead of the Fed