2,728 once again!  
It's the same bounce line we were talking about in March – and that was 4 months ago now!  At the time (3/16), I said: "That, in turn, indicates that the majority of this trading is being done by robots and those robots are not trading with emotion or enthusiasm – they are just trading their pre-programmed ranges and it won't take much of a change of human hearts to send the whole thing crashing back down another 10% from here."  As it turned out, we did fall back to 2,575, "just" a 5.6% correction. 
As Fundamentalists, we need to consider whether things have improved or not since mid-March.  Earnings were generally good but Economic Indicators have deteriorated and, of course, we have entered into a bit of a Trade War, which could destroy the entire global economy – but let's not dwell on the negatives, OK?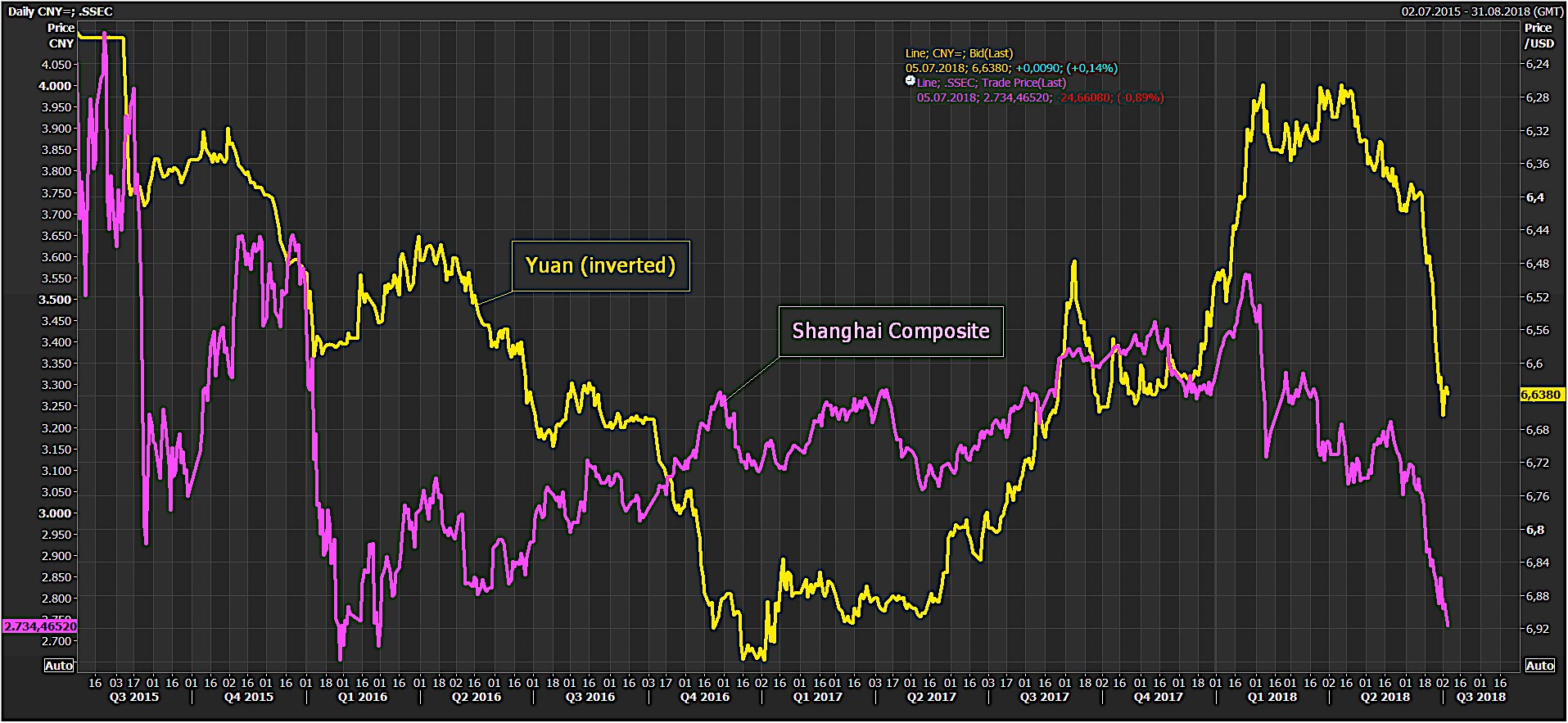 The Chinese markets, of course, are falling off a cliff, like they did in 2015, when our markets also ignored them, until 3 months later, when the S&P dropped 12% from 2,100 to 1,850.  Maybe this time will be different – maybe China doesn't matter, maybe Trade Wars can be won, maybe Trump is a genius and his policies will all work – even though they seem more like they are going to bankrupt us at the momnet.  Hope can spring eternal but that doesn't make me want to bet on it!  
Rising money-market rates have forced the Fed to take steps to maintain control over its key policy benchmark. With the bill issuance rising and the Fed unwinding its balance sheet, the front-end is poised to take center stage and we'll get the Fed Minutes at 2pm this afternoon and, of course, Non-Farm Payrolls come out tomorrow at 8:30 am, which can also be a market-mover.  
Note the overall p/e for the S&P 500, according to JP Morgan (JPM) is up at 20.6, about 5% over the historical norm but the forward p/e still carries inflated expectations of 16.1, which is in-line with the historical norm but a huge stretch to think earnings will improve 20% over the next 18 months but hope continues to spring eternal and the…

http://welcome.philstockworld.com/wp-content/uploads/2015/09/PSW-Adooma-logo.png
0
0
Phil
http://welcome.philstockworld.com/wp-content/uploads/2015/09/PSW-Adooma-logo.png
Phil
2018-07-05 12:26:42
2018-07-05 12:26:42
Thrilling Thursday – Trade Talks at S&P 2,728