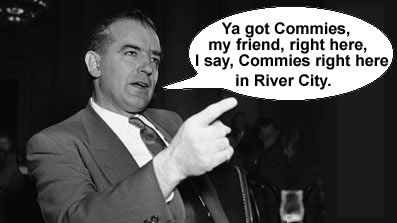 Let the witch hunt begin!  
Direct from Central Casting we now have former FBI Director, Robert Mueller III playing the role of Special Counsel to investigate what the President alleges are non-existant ties between Russia and Team Trump as well as to determine the extent to which Russia worked to undermine the US elections.  
A lot of people are saying if we end up impeaching Trump then Pence will become President but if we're impeaching Trump because the Russians helped him steal the election – why would we then put his running-mate in charge?  I guess we'll cross that bridge when we come to it but clearly Mike Pence couldn't get elected dog catcher in 80% of this country.  Even now, when I went to the Wikipedia page to check on some Pence facts, I am reminded of the fact that the people had already spoken and they did not vote in favor of him or Trump:
America is one of the only remaining countries on the planet that doesn't elect their leaders using the popular vote and look what a mess we have already – just 112 days into Trump/Pence.  Clearly the markets were not pleased with the speed at which this Administration is coming apart at the seams and, of course, as toppy as they were – they were ripe for a nice fall anyway.  
A fall is certainly what we got yesterday, with both the Nasdaq (QQQ) and Russell (IWM) falling over 2.5% on the day.  According to our 5% Rule™, it it more likely we follow through for another 2.5% drop today and tomorrow than recover and that suits us just fine as we're bearish anyway (and congrats to all who used our bearish index hedges or SVXY hedge from Tuesday morning's PSW Report, which you would never miss by subscribing here).  
For the morning, we're looking to see if we get a weak bounce off yesteday's drop and, in the Futures, the Nasdaq (/NQ) fell from 5,700 to 5,550 which is 150 points so the bounce should be 20% of the drop or 30 points, back to 5,580 for a weak bounce…

http://welcome.philstockworld.com/wp-content/uploads/2015/09/PSW-Adooma-logo.png
0
0
Phil
http://welcome.philstockworld.com/wp-content/uploads/2015/09/PSW-Adooma-logo.png
Phil
2017-05-18 12:32:15
2017-05-18 12:32:15
Throwback Thursday – Russians, Russians Everywhere and a President Who Doesn't Think