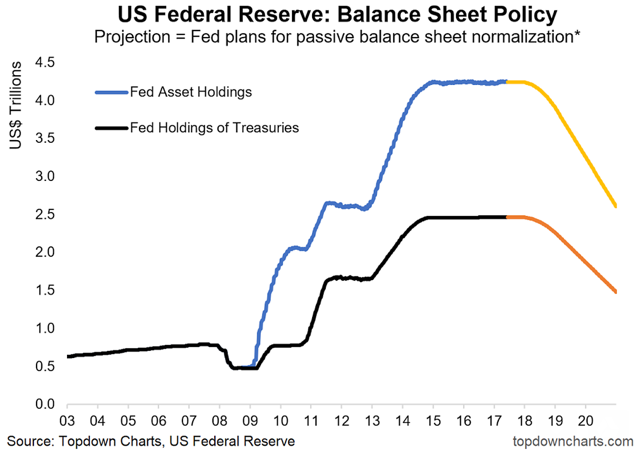 Well, that's that!  
The great unwind has begun and I was off by $100Bn (20%) yesterday, when I predicted the Fed would aim for $500Bn a year in balance sheet reductions (they are going for $600Bn) although, to be fair, they are gradually stepping up to $600Bn so the net effect will be the same $500Bn a year, which is what we calculated would be the most even a recovering economy could withstand.
Keep in mind that treasuries are only half of the assets the Fed holds, they also have a lot of stock they need to dump and a whole lot of real estate and mortgages they need to find buyers for as well and you KNOW what happens when a seller HAS to sell to raise cash by a certain time – they are simply not going to get great prices for the assets they are dumping.  
It's a lot easier to write a check to buy things than it is to sell them – ask anyone who's thrown a garage or estate sale.  Whatever the Fed ends up writing off will be losses that transfer to Treasury and ultimately add to our deficit.  None of this is accounted for in Trump's already pure-fantasy budget and, in fact, the Fed ADDED $97.7Bn in profits to the Treasury last year, reducing our defict.  If instead they lose $100Bn a year – that's a $200Bn swing in our deficit.  That's 5% of Government spending – no small item!
The market seems oddly calm about all this but, as we discussed in yesterday's Live Trading Webinar (where we shorted Oil (/CL) at $51 and the Russell (/TF) at 1,445), the process for large funds and banksters involves several meetings and perhaps board votes before they begin to unwind their own assets – so the real reaction is likely to be delayed into next week.  

The quick reaction was a 1% drop in the indexes, a half-point drop in bonds (higher rates) and goaaaaallllll!!! on our Dollar trade, as it blasted up to our 92.50 target from the Morning Report and that was good for same day gains of over…

http://welcome.philstockworld.com/wp-content/uploads/2015/09/PSW-Adooma-logo.png
0
0
Phil
http://welcome.philstockworld.com/wp-content/uploads/2015/09/PSW-Adooma-logo.png
Phil
2017-09-21 12:44:08
2017-09-21 12:44:08
Thursday – F*cked by the Fed (there's no other way to put it)!