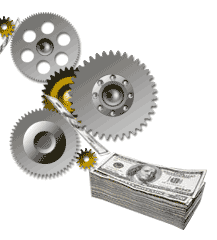 CASH!!! 
It's almost a joke how many times I said that last quarter to our Members and in our morning posts.  I have said "CASH!!!" (with the exclamation points) 210 times in the past 90 days in our Live Member Chat Room in answer to various questions about what I thought would be a good position to be in into the end of 2015.  Our Member Portfolio are over 80% CASH so we are able to enjoy this little correction and, in fact, today we'll be doing a bit of early bargain-hunting using our famous "How to Buy Stocks for a 15-20% Discount" strategy.
While we're not sure the market is done going down (see chart below), we are sure that we can give ourselves 20% additional discounts to the current prices (like our AAPL trade idea yesterday) and, with the S&P already down around 1,940, 20% further down is 1,552 – and that's a level we feel strongly would be good long-term support (1,850 is our target low).  So 1,940 is close enough for us to dip our toes in and commit perhaps 10% more of our cash.  
Of course, we also have our hedges.  In fact the SDS hedge we featured back on Dec 4th is 100% in the money and on the way to pay back the full 477% on cash as we move towards January expirations.  I won't even tell you how much money our Futures short ideas from that same post are now up – if you weren't in them you will just cry.  Even our long idea from that post: WYNN, which was picked for our institutional clients is actually up from that day – despite the poor market surrounding it.  In fact, the short sale of 1,000 2018 $45 puts for $9.30 is up $90,000 already as the puts dropped to $8.40 – not bad for a month's work.
That's just a play using our simple "discount" strategy and I mentioned at the time that we had put together a Buy List for 2016 and now those stocks are finally coming down to levels where we're willing to pull the trigger on…

http://welcome.philstockworld.com/wp-content/uploads/2015/09/PSW-Adooma-logo.png
0
0
Phil
http://welcome.philstockworld.com/wp-content/uploads/2015/09/PSW-Adooma-logo.png
Phil
2016-01-07 13:37:19
2016-01-07 13:37:19
Thursday Thoughts – Have I Mentioned How Much I Like CASH!!! Lately?