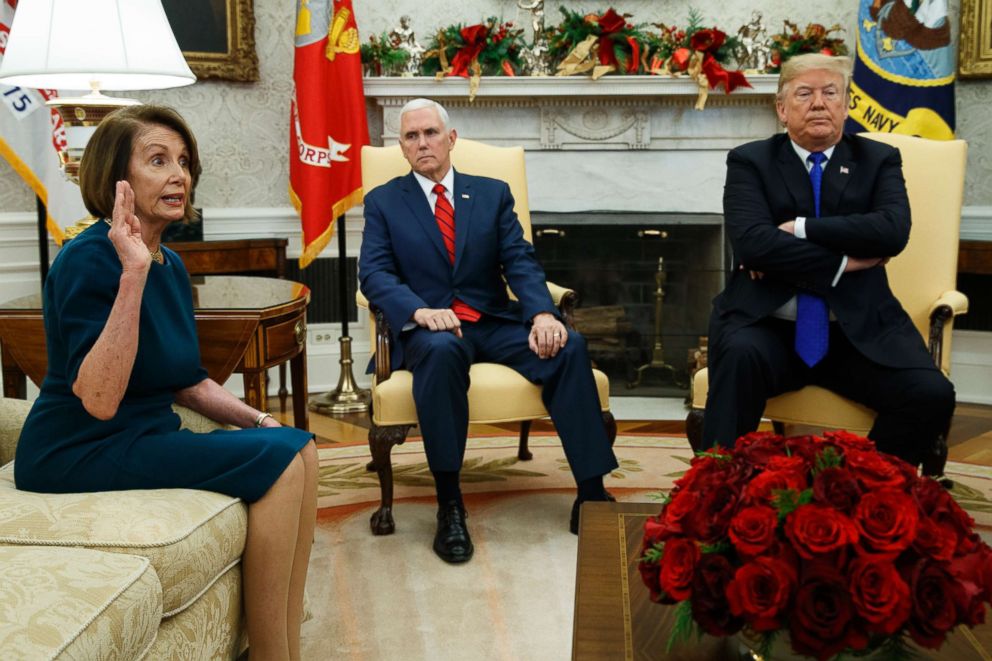 Well candy didn't work.
Trump started his meeting with Pelosi and Schumer yesterday by handing out cofee and snacks (Butterfingers, M&Ms and Baby Ruths) as if they were there to trick or treat but when Pelosi refusted to accept the bribe in exchange for caving on Trump's wall demands – and I'm not kidding:  "A frustrated Mr. Trump put his hands in the air—two open palms on either side of his face—and said, "Bye-bye," and left the room." 
All in all, the meeting lasted 20 minutes with most of it taken up by Trump trying to get Nancy to have a 500-calorie snack and Pence, who's not allowed to be alone in a room with a woman, could not understand why this one was talking in the first place when there was a perfectly good man around to make decisions.  Trump even wore one of his big, phallic ties and the President could not understand why the House Speaker was not overcome with a desire to please him.  Body language says it all in that photo – we're doomed!  
That makes today day 20 of the Government shut-down and it's only 2 days until we make the record for the longerst shut-down ever – so it would be silly to stop now, right?  Well, there's no danger of that after yesterday's debacle, which included this brief exchange, right before Trump stormed out of the room:
Mrs. Pelosi and Mr. Trump then argued over the White House's justification for the border wall. Mrs. Pelosi said reducing drugs coming into the country would require additional port-of-entry infrastructure improvements. Mr. Trump said that human trafficking was also an issue, and painted a vivid picture of sexual abuse and human trafficking as women and children attempt to cross the border.

"Mr. President, as I said before, the plural of
…

http://welcome.philstockworld.com/wp-content/uploads/2015/09/PSW-Adooma-logo.png
0
0
Phil
http://welcome.philstockworld.com/wp-content/uploads/2015/09/PSW-Adooma-logo.png
Phil
2019-01-10 13:37:38
2019-01-10 13:37:38
Thursday Thoughts: Trade Progress Trumps Shutdown Impasse