Well, we got through Wednesday.  
I love this chart which shows what the Fed has, in the past, SAID rates would be and what, in fact, they actually were for the past 3 years.  So it's not too surprising that, no matter what Yellen and Co. say about raising rates this year – no one is going to believe them.  If you bet against rates rising every single time (20) that the Fed said they would be raising rates in an upcoming meeting – you only would have been wrong once – last December.  
There are new traders who have been on the job for 7 years now and have never seen a Fed Fund Rate at 1%.  Money is essentially free if you want it – that's just a fact of life – why would you plan for anything else?  If you want to expand – borrow money, if you want to buy out a competitor – borrow money, if your stock price is too low – borrow money to buy it yourself.  
Non-Financial Corporate Debt is up $3 TRILLION since 2008 – and that is just the S&P 500 – globally, 16Tn has been borrowed by Corporations at a rate of $2Tn per year, 3% of our Global GDP is borrowed!  It took 50 years for corporations to rack up their first $3Tn in debt but the next $3Tn came in just 8 years.  Yes, of course the first $3Tn in debt led to a complete meltdown of the Global markets as companies found themselves unable to service that debt but this time is different – because they borrowed twice as much…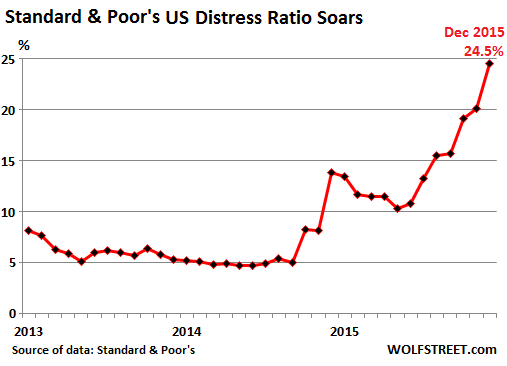 Less than 25% of that debt is considered "distressed" (yields that exceed Treasury yields by at least 10 percentage points), that's nothing to be alarmed about, is it?  Only 112 companies have been declared in default by S&P as of January of this year but, in 2008, it was 125 – so we still have room to improve on that front before panic sets in.  We have a long position on SJB ($25) in our Options Opportunity Portfolio, which makes money when junk bonds…

http://welcome.philstockworld.com/wp-content/uploads/2015/09/PSW-Adooma-logo.png
0
0
Phil
http://welcome.philstockworld.com/wp-content/uploads/2015/09/PSW-Adooma-logo.png
Phil
2016-09-29 12:23:55
2016-09-29 12:23:55
Thursday Thrust – OPEC Cuts Back and Yellen Doesn't Raise