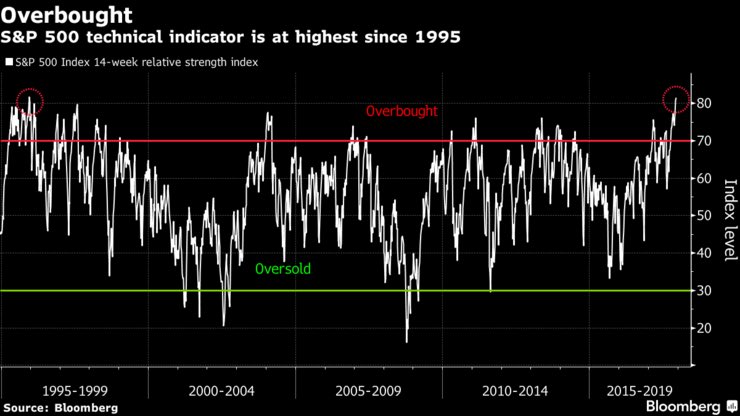 80% overbought.
We weren't even 80% overbought in 1999.  The high on the RSI Index was hit back in early 1997 and, bulls take note – we kept going higher for 2 more years after that – so this doesn't mean it's the end – it just means this is crazy.  This is about the point where Alan Greenspan called the market "irrationally exuberant" (Dec 5th, 1996) saying:
Clearly, sustained low inflation implies less uncertainty about the future, and lower risk premiums imply higher prices of stocks and other earning assets. We can see that in the inverse relationship exhibited by price/earnings ratios and the rate of inflation in the past. But how do we know when irrational exuberance has unduly escalated asset values, which then become subject to unexpected and prolonged contractions as they have in Japan over the past decade?
The Dow had just passed 5,000 at the time and, two years later, it was at 11,700 – up 134% AFTER the Fed Chairman said people were nuts for buying stocks.  I don't know for sure if we were right to go to CASH!!! last week but it's not a permanent decision – it's simply something we're doing into the holidays and likely to remain until we see the Q4 earnings and 2018 guidance in January.  THEN we will decide which stocks we want to ride for the next 100% of the market rally – if such a thing is coming.  
As you can see from the chart, the Dow move was nothing compared to the Nasdaq, which more than tripled after his call.  We just saw BitCoin more than double after JP Morgan's Jamie Dimon called it a scam and our GreenCoins (GRE) doubled yesterday and today they are up another 20% – that's a scam we can all enjoy!  
We're waiting on a Fed decision tomorrow and they are expected to tighten and this morning's November PPI numbers were hotter than expected, at 0.4% with even Core PPI up 0.3% – so those are good reasons to expect the Fed will be tapping on the brakes tomorrow but Greenspan raised rates all the way…

http://welcome.philstockworld.com/wp-content/uploads/2015/09/PSW-Adooma-logo.png
0
0
Phil
http://welcome.philstockworld.com/wp-content/uploads/2015/09/PSW-Adooma-logo.png
Phil
2017-12-12 13:32:43
2017-12-12 13:32:43
Too High Tuesday – S&P 500 Most Overbought in 22 Years